10 Nov

Timeless Design for an Age-In-Place Kitchen

Age is inevitable, for you as well as for your home.  If you are planning on renovating your house and staying in it for the long-haul, consider some enhancements that will improve the time you spend there, from now and into the future.  These design decisions represent a lasting aesthetic while keeping your remodel project function-focused.
Brighter Spaces
White kitchen cabinets are timeless, but they also offer a brighter space which will come in handy when eyesight begins to decline.  However, it is important to avoid a completely monochromatic color scheme to avoid confusion of your color perceptions later in life.  Select a contrasting countertop and include under-cabinet lighting to vitalize the room and enhance safety.
Convenience Features
Planning for the function of your space and gaining the best use of your cabinets and appliances will make life easier now and eliminate discomfort later on.  Doors and drawers that feature soft-close hinges and glides make opening and closing cabinets a breeze. Incorporate roll-out shelves and pull-out units inside base cabinets to ease the burden of bending over to reach for heavy items.  For an even better approach to streamlining your kitchen and making it user-friendly for years to come, organize your dishware inside deep drawers fitted with drawer organizer pegs; retrieving and putting away dinner plates and salad bowls becomes an easy, manageable task.
Room for Clearance
If you are in the initial stages of planning your Denver kitchen remodel, you have probably thought about how extra space woul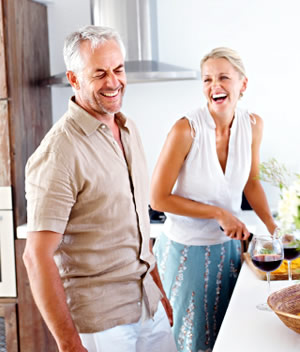 d make kitchen work a little smoother.  The immediate impact of more space will allow for more cooks in the kitchen, a better work flow, and a greater space for entertaining.  It will also be a useful long-term decision when extra clearance may be necessary to accommodate walkers or wheelchairs.
Easy to Handle Hardware
Your Denver cabinets are not complete without hardware.  Choose cabinet knobs and pulls that are easy to grab and ergonomic plumbing fixtures to help offset the loss of dexterity some people experience as they age.  Hardware companies offer a wide variety of options so that you do not have to sacrifice on your design style while making this smart decision for the future.
Your home is one of the largest investments you've made in your life, and, like many people, it's an investment that is well loved.  Taking practical long-term steps in your remodel will help you remain in the place where many of your memories were made for years to come.  For more information and to gather ideas on how to create the optimal age-in-place kitchen, contact us.
Save
Save
Save
Save