12 Jul

Organize With Custom Garage Cabinets

[Updated August 2020]

Most homeowners agree that the garage is a crucial storage hub of the home. Aside from housing a car, it's typically also a drop-zone for family activities. However, if you don't have adequate storage solutions for tucking items away, this multipurpose room can quickly become cluttered. Although basic shelving units are handy, they don't hide the mess. To keep your belongings organized, install custom garage cabinets to help bring order to the chaos.
Places for Everything
Perhaps one of the most quintessential functions of a garage is to have a place for tools. However, many people find it challenging to keep tools and equipment organized and put away. One option is to create a workbench with storage underneath and open shelves above. Base cabinets with deep drawers can house larger tools. Built-in bins or pull-outs are great for storing smaller items, such as nails, screws, hand-held tools and other parts and pieces that are important to keep on hand and out of sight. To optimize storage of commonly-used tools, incorporate peg or slat wall boards in the design.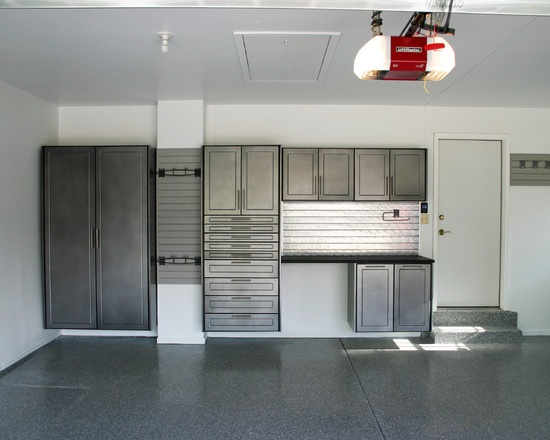 Pro Storage Solutions  houzz.com
A tall, pantry-sized cabinet can serve many functions in a garage. From winter sports gear to rakes and brooms, this style of cabinet is perfect for seasonal items. Outfitted with shelves, a tall cabinet is also great for stowing away the overflow of home goods. Keep your extra laundry detergent, paper towels and non-perishable food items stacked inside and out of the way.
Home Fitness Center
Sometimes, getting to the gym is easier said than done. Why not create a home fitness center in your garage? With adequate space to stow workout machines and weights, you can easily convert your gym back into a garage once your exercise routine is over. If you have enough square footage, you can permanently dedicate a portion for a treadmill, stationary bike or weight bench.

Details a Design Firm  houzz.com
Seasonal Storage Solutions
Many households keep a multitude of seasonal and holiday decorations on hand. Therefore, a permanent storage spot in the garage is beneficial. Include a stretch of wall cabinets to hold decor from every season. Additionally, consider adding custom channels for storage bins and a tall cabinet for your artificial tree. It's easy to optimize your garage when you everything has a place.
Don't let improper storage ruin your peace of mind. Discover more efficient storage solutions with custom garage cabinets in your home by contacting us.
Save
Save
Save