06 Feb

Breathe New Life Into Your Laundry Room

Doing laundry is a chore not often relished. Having a specific room dedicated to doing it in, though, can relieve some of the stress and might even make doing housework a little more enjoyable.

According to an article by Houzz.com, many homeowners are looking for an elevated laundry experience that goes beyond a dark, cluttered corner in a garage or basement. Experts advise that when upgrading your laundry room, it's wise to consider both functionality and aesthetics.
Cabinets and Storage
In addition to having a washer and dryer, adding Denver custom cabinetry to your design layout will give you extra features such as storage for cleaning supplies, bins for clothes sorting, pull-outs for ironing and other helpful amenities. Depending on the location of your laundry room, you can select cabinets that match your kitchen or bath, or you can select a style that will stand out on its own.
Proper lighting
As part of a laundry room renovation or addition, having adequate lighting is important to properly illuminate the tasks you are doing. Depending on your space, recessed or pendant light fixtures are great choices for ambient lighting. For more specific task lighting, you can incorporate under-cabinet lighting just as you would in your kitchen.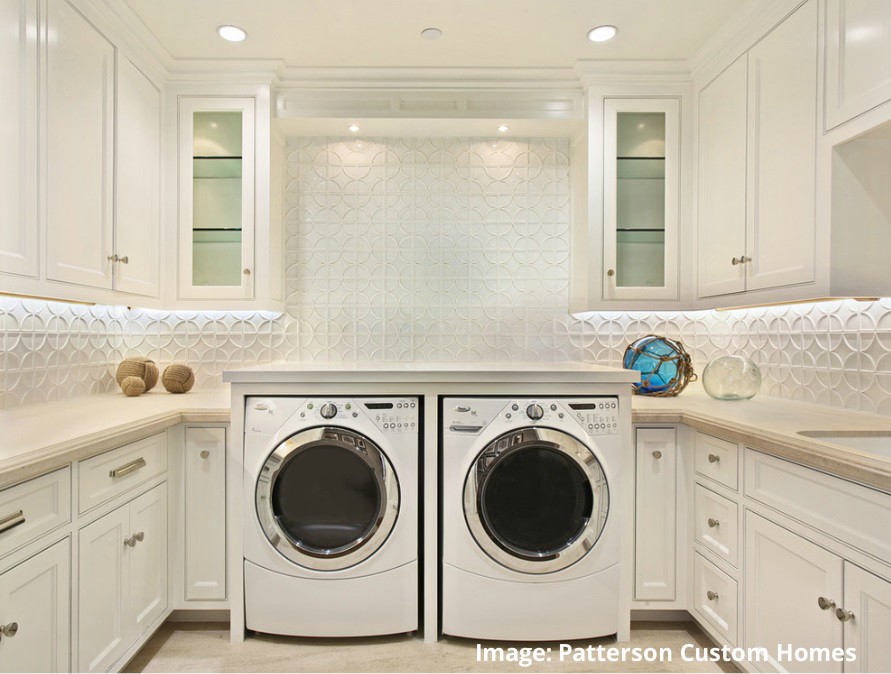 Counter space
By installing a front-loading washer and dryer, you can place a countertop directly above, extending your storage space while offering a convenient spot for sorting and folding laundry. Rather than resting the countertop directly on the washer and dryer, support the material with sturdy wall braces to keep it elevated, thereby keeping direct pressure off of the appliances. Or, you can opt to secure the countertop by extending it to cover cabinets on either side of the washer and dryer. Avoid using a countertop material that is too heavy or too cost-prohibitive, such as granite. Laminate, melamine or other lightweight materials are optimal.
Ironing and sorting
Another important aspect of your laundry room is having proper space and tools for ironing, folding and sorting. As part of your Denver custom cabinetry consultation, inquire with your designer about fold-out/pull-out ironing board choices. You can customize your laundry room with other accessories and storage options, including specialized hampers and baskets and custom hanging rack systems for your clothing.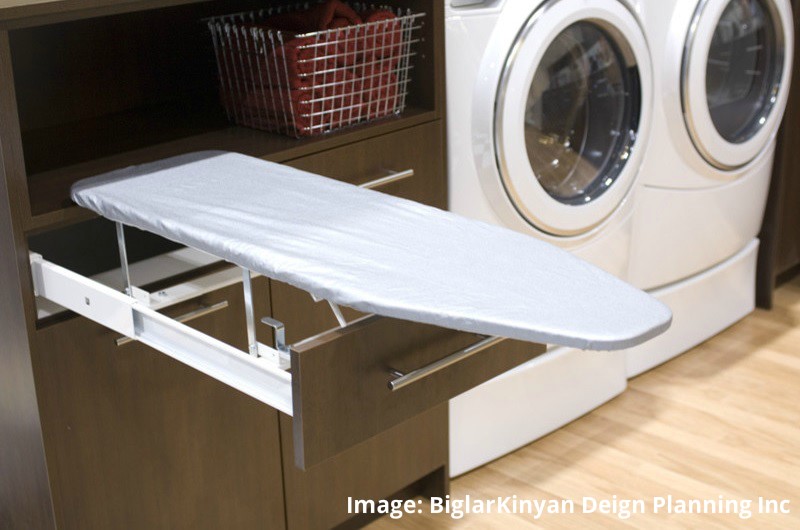 When planning a remodel of your laundry room, be sure to consider safety precautions and sound issues. Installing  non-slip floors will help keep you safe from falls. Choose flooring material that won't warp or damage if there is a water leak, and install a floor drain to keep unexpected flooding under control. Add cushioned mats in front of your standing areas to help ease the strain of being on your feet. Depending on how far away your laundry room is from the main living areas of your home, add an extra layer of insulation in the walls to help reduce excess noise. For laundry rooms located on the second floor, it is recommended that floor joists be reinforced.
At BKC Kitchen & Bath, we can help you design your Denver laundry room, kitchen and bathrooms. We are proud to have a solid reputation helping Colorado residents since 1978. For more information on cabinetry for any room, please contact us.
Save