20 Feb

Bath Renovation With Modern Appeal

For most homeowners, remodeling a kitchen often takes precedence over a bathroom renovation, but design experts say that adding a spa-like bathroom will take center stage in 2015 for home remodeling projects. According to an article by Huffington Post Home, bathroom trends can be just as fresh and innovative as kitchen trends. Before deciding on your favorite Denver bath cabinets, consider some of the design options now flourishing in the one room in the home that's often private, peaceful and quiet. Referring to a 2014 survey conducted by the National Kitchen and Bath Association concerning upcoming trends, the Huffington Post article cites that bathroom design styles have turned from rustic and traditional to clean and contemporary.
Cabinets with modern appeal
Whether you opt for custom cabinetry or semi-custom cabinetry, look for door styles and colors that have a modern appeal. Rather than going with hickory or knotty alder that have distinct wood grain patterns or knots, choose wood that has smoother texture, such as maple or cherry. You can also opt for thermofoils or acrylics that offer bold colors and glossy sheens. Minimalist cabinetry without ornate or busy patterns is best. A flat or slab-style door front will gave your cabinetry clean lines and a contemporary feel. If you prefer a bit of depth to your cabinet doors, shaker-style can still give your bathroom a modern look – just be sure to avoid adding glazes or highlights that can build up along the inside edges.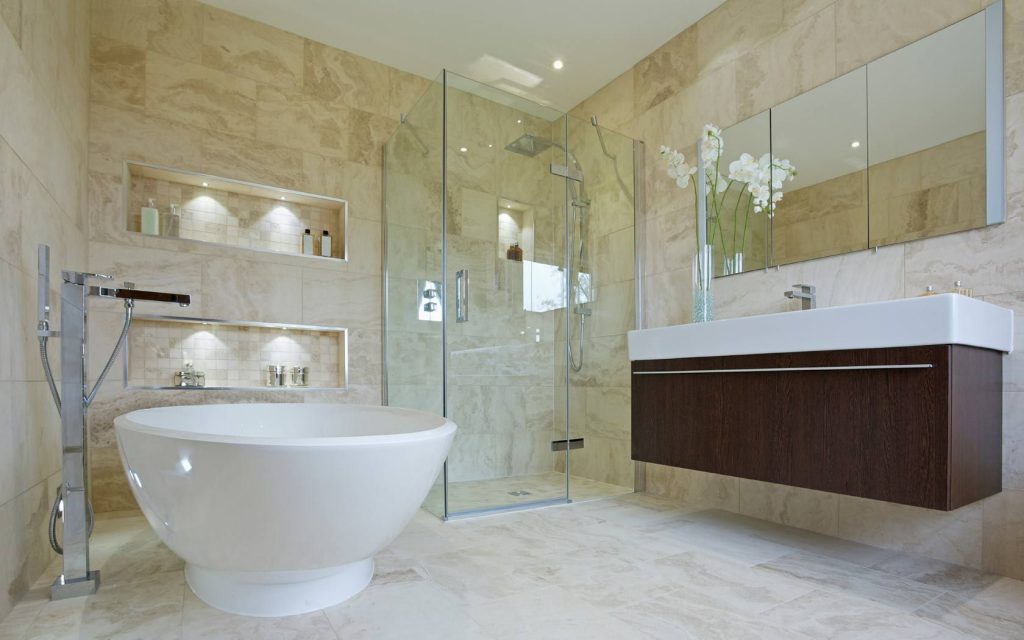 Soaking tubs and eco-friendly countertops
Continuing with the emphasis on cleanliness, many designers suggest opting for a free-standing or soaking tub instead of a shower and tub-surround with grout lines that can be unsightly and difficult to clean. Remember, the simpler the design of your bathroom, the better and more calming the overall effect will be. When choosing countertop material for your vanity (or vanities), be aware that granite has lost some of its appeal in the bath. Popular countertop materials now are engineered quartz and recycled glass products, such as Cambria and Ice Stone. Both options are durable, environmentally-friendly and have a wide palette of colors.
Bolder accents and accessories
Chrome faucets, towel racks and cabinet hardware with simple, clean lines are considered the most desirable in current bathroom design. In lieu of installing ordinary white subway tiles, choose bolder backsplashes and wall tiles with an edgier look. Stainless steel, glass and ceramic tiles in an array of patterns and colors can offer a more daring statement. Most kitchen and bath designers will tell you that it's okay to take chances with bath décor that you might not undertake in other rooms in your home.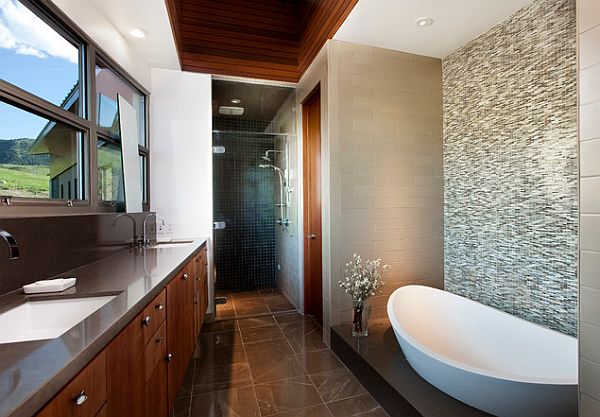 At BKC Kitchen & Bath, our design experts are here to help you create a distinctive, modern bathroom design that will bring you both visual satisfaction and the perfect place for relaxation. For more ideas on renovating your bathroom and to see a selection of the best cabinets in Denver, please contact us.
Save