12 Oct

Where Should I Buy My Cabinets?

For home remodel projects that include new cabinets, there are many decisions to make, including where to buy your cabinets. Choices include professional cabinet dealers, ready-to-assemble (RTA) and big-box stores, and local cabinet makers. Before committing to a purchase, consider the pros and cons of these cabinet resource options.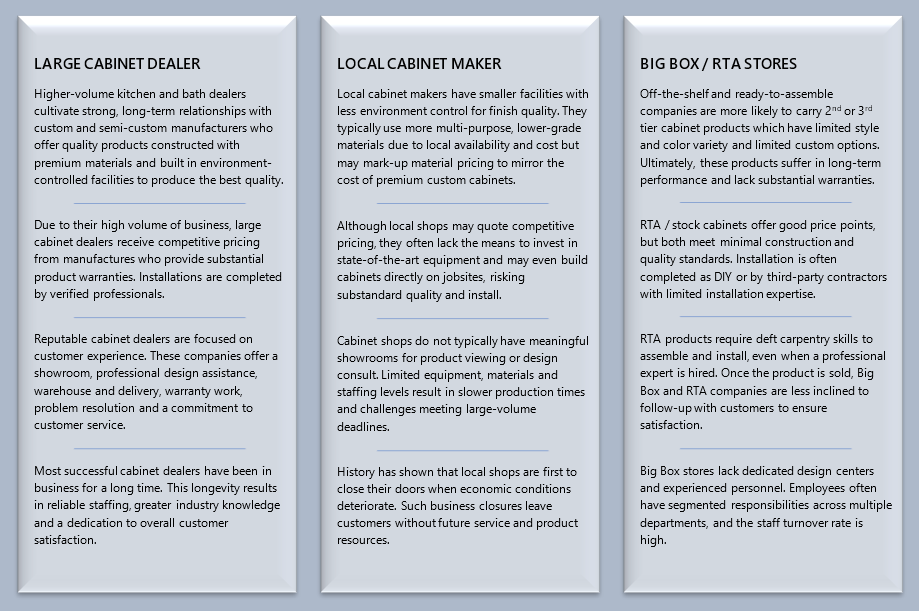 Project scope, design and budget each play a part in where to buy your cabinets. However, don't rush to the big-box store or local cabinet maker. Choose a reputable dealer of high-quality manufactured cabinetry, where you'll receive much greater value in the long run. Due to higher business volume, longevity and industry knowledge, cabinet dealers are better equipped to provide premium products, service, warranties and customer care for years to come.
Discuss cabinet options for your remodel project with a professional kitchen designer. Find out why choosing a reputable cabinet source is one of the most important decisions you'll make.
For further information on the pros and cons of cabinet resources, check out Nine Costly Mistakes to Avoid When Selecting Your Cabinet and Design Company.