05 Apr

Five Ways to Freshen Up Your Bathroom Design

Blending different elements into a bathroom renovation is a great way to create an overall engaging design that is both functional and relaxing. Most homeowners would agree that a master bath should evoke a special ambiance that is different from the powder room on the main floor. While there are some basic necessities for every bathroom and a budget should be established, getting creative and organized will lay the foundation for a space you'll cherish for years to come.

As you begin to plan for your Denver bathroom remodel, consider these five stylish bathroom design trends that will maximize the purpose of the space and enhance the overall character.
Natural tones
Earth tones derived from wood, stone, and other natural materials add elements of warmth and originality to bathroom designs once dominated by steel and porcelain. Hardwood on the floors as well as wooden wall panels are growing in popularity, and homeowners are seeing a rise in stone, river rock, and kiln-fired ceramic products replacing traditional porcelain sinks. Blending natural elements into the overall design of the space will enhance warmth and add interesting visual texture.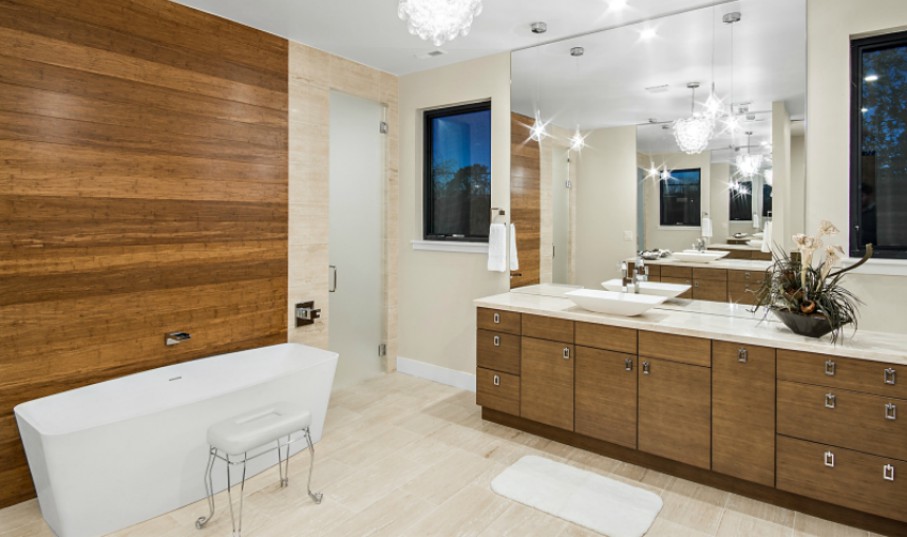 Photo credit  I  BKC Kitchen and Bath
Functional cabinetry
New and innovative cabinetry designs are helping renovators maximize functionality in every square foot. Because more homeowners are looking to declutter their bathrooms and find ways to tuck away toiletry items while remaining stylish, cabinets are taking on fresh looks and optimal storage solutions. If space allows in your master bath, integrate custom cabinetry in the layout to act as a dressing table or make-up vanity alongside cabinets that complement the overall design.
Creative patterns
Herringbone, basket weave and arabesque patterns are fun, inviting options for showers, backsplashes, flooring and even wallpaper or curtains. Go with neutral tones or consider bold accent colors that will stand-out against the softer hues of wood cabinetry. In the kids' bath, integrate bright colors to add a playful element that will both conjure up young imaginations and help ease clean-up time at the end of the day. Geometric patterns in any bathroom will add a simple yet vivid aesthetic that won't lose its impact over time.
Luxury showers
Whether you have an enclosed shower or a bathtub/shower combination, adding a specialized fixture can turn a simple bathroom into a home spa. While some homeowners opt for dual shower heads, others may prefer a sleek, rainfall option. To fully experience spa-like moments in the comfort of your own home, many walk-in showers today can be customized to feature built-in benches, heating lamps, multiple spout options and even additional steam to emulate a sauna.
Big tiles
Large natural stone or ceramic tiles in the bathroom offer a seamless look and provide a more spacious feel. Fewer grout lines help make those areas easier to clean and maintain, which is a positive point for any homeowner. For shower stalls or bathroom walls, a white or lighter-toned tile can add an illusion of space and make a room brighter. Not every master bath is as spacious as a homeowner might like, however incorporating bigger tiles can make almost any room feel larger. And, with the impression of more space comes a sense of relaxation and serenity, which is the ultimate reward in any master bath.
Houzz lists 10 more bathroom design trends that are expected to grow in 2016; all of them add elements of comfort, luxury, and clean design. For assistance with designing YOUR perfect bathroom, contact us.