29 May

Cabinet Framework Options to Meet Your Style

Selecting new cabinetry for your Denver kitchen remodel involves more than choosing the door style and finish color you love. Deciding on cabinet framework is an equally important factor that will greatly influence the look of your kitchen. Does your style lean towards classic or contemporary? Do you like the look of exposed hinges, such as finials, or do you prefer hidden hardware? When it comes to weighing cabinet framework options, personal preference is key.
Framed cabinet construction
If you live in a home that represents a traditional style or you simply prefer a classic look, framed cabinet construction is the best option for you. In framed cabinet construction, component parts make up the sides, back, top and bottom of the cabinet. These parts are then joined together and attached to the face frame, which is the primary support for the cabinet. Doors and drawers are fit either to partially overlay the frame (called 1/4 overlap or lip) or to completely overlay the frame. Framed cabinets are easy to install because they do not have the minimal door clearance tolerances found in the frameless method of cabinet construction. However, this method of construction has less interior storage space because the interior size of drawers or roll-out accessories is smaller than the overall width of the cabinet.
Frameless cabinet construction
If you prefer a more contemporary style, common in European homes, frameless cabinet construction is the right choice for you. Due to their thickness, the case parts of frameless cabinets form a box that does not need a front frame for stability or squareness. Doors and drawers cover the entire face of the cabinet. The major advantages of frameless construction are total accessibility to the case interior and the clean, simple design statement made by the finished product. Frameless cabinets add a touch of sophistication and modern appeal to any room.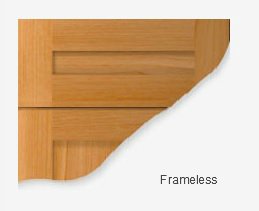 Inset cabinet construction
If you enjoy a mix of styles, transitional cabinets are perfect for almost any décor. Inset cabinets, which feature recessed doors, are a great option for homeowners who want clean lines as well as traditional styling. With inset construction, cabinet doors sit tucked inside the face frame, and hinges can either be concealed or visible, depending on your preference. Unlike overlay construction, inset doors and drawer fronts are designed to precisely fit inside the face frame.
To learn more about cabinet construction and framework options, give us a call or visit our showroom. We have many vignettes on display that feature a variety of cabinet styles. Our design team is ready to help you turn your dream kitchen into a reality!
Save