08 Mar

Tackling the Mudroom with Custom Cabinets

The mudroom is commonly overlooked when it comes to home renovation, especially because it's an area that tends to be transitional. For most families, the mudroom is the place where shoes slip on and off, where backpacks are dropped, and where coats, scarves, and snow boots pile up during cold weather. What better place to tackle organization, especially with some Denver mudroom custom cabinets? Here are our ideas to turn your cluttered mudroom into a streamlined storage area.
Decide to Organize
There is a lot to consider when designing a functional mudroom. From a coat rack for your family and guests, to a shoe rack for organizing footwear, you'll want to take stock of what you intend to use your mudroom for. For instance, have a mix of open shelves and cabinetry with pull-out features. Or, dedicate a tall cabinet for hanging clothing. Whatever you decide, keep organization the focal point so you can optimize how you use the space.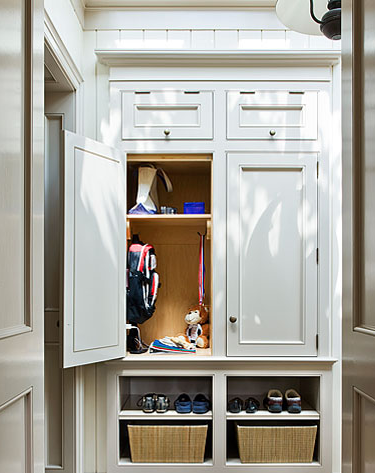 Photo Credit:  www.decorpad.com
Aim High
Mudrooms are a great place for seasonal storage. This is especially true when you start switching out winter boots with summer sandals or skateboards with snowboards. Take advantage of high ceilings or an entire wall by using top cabinets for seasonal storage. Leave the bottom cabinets or shelves more conveniently available for year-round items. Consider custom sizes for some of your odd-shaped belongings — skis, athletic equipment, and outdoor gear that's brought inside. The mudroom is a great place for such items, especially if you want to maximize the utility of a narrow space or corner.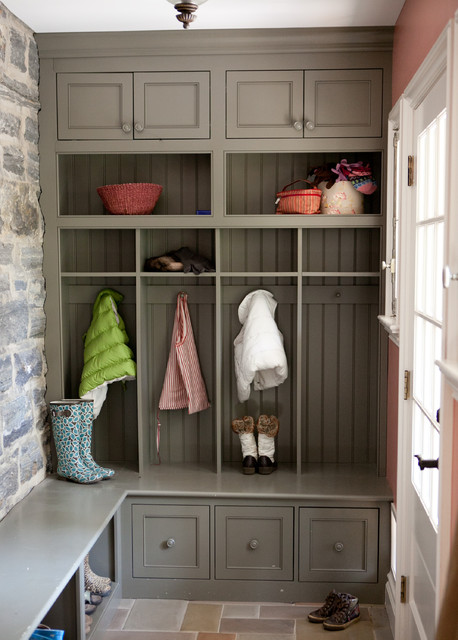 Photo Credit  I  Greenable
Make Room for Special Features
When space allows, a mudroom with a bench for shoe changing, or a charging station to plug-in devices close to the door where they won't be forgotten, are great additions to consider. If you have a furry family member, the mudroom is a great spot to hang leashes, store toys and even tuck away a pet bed. For inspiration, Houzz has some great mudroom designs that incorporate these features, including a heated floor to help dry shoes and keep your family's feet cozy and warm.
Photo Credit  I  www.atticmag.com
Organizing your mudroom with custom cabinets is a great way to declutter your home and create usable space for your family's activities. For help with designing your mudroom, contact us. We can help you choose the best cabinets that add both style and function to your home.
Save