28 Sep

Remodeling Your Kitchen for a New-Tech Market

In recent studies surrounding the best cities to live and work in, Colorado has repeatedly been in the spotlight as one of the most sought-after places for jobs, especially in the technology and IT industries. According to Forbes, "Denver's relatively central location makes it a natural location as a distribution hub for the American west, while also supporting a number of growing industries in technology and telecommunications."

Many of these Colorado newcomers are settling into careers with IBM or Oracle, while others are planning their own tech startups in what's set to be the Rocky Mountains' own Silicon Valley. With this population influx comes the need for homes, lofts and condos perfectly suited for a large group of tech workers looking for desirable residences in Denver's beautiful and natural setting.

Whether you're planning to put your house on the market or intend to stay in your home for a while and wish to update your current interior, these three Denver kitchen remodel ideas highlight key trends in current kitchen design that many tech-savvy newcomers would find desirable.

1.) Sleek cabinet design and integrated smart appliances: If your aim is to attract tech professionals new to the city, remodeling your kitchen to include appliances featuring smart technology might also warrant adding a minimalist, contemporary style to the rest of the kitchen. Tech-lovers can appreciate the sleek design of frameless or flat-panel cabinetry matching the lines of a brushed-chrome refrigerator or integrated oven. The addition of stainless steel accents on cabinetry, such as metal feet on islands and unembellished pulls on doors and drawers, will bring an overall modern aesthetic to the décor.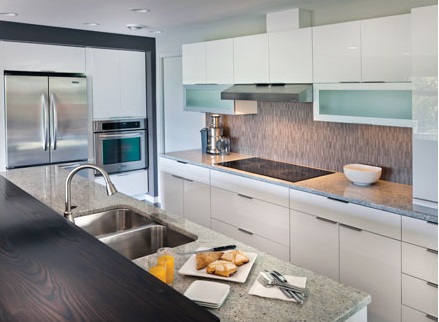 Photo Credit  l  Partners 4, Design/Crystal Cabinets
2.) Dynamic function with countertops: Maximizing space with large or strategically-placed countertops on perimeters, peninsulas and islands appeals to new homebuyers because of the wealth of function that comes with it. Whether used for cooking meals, entertaining with friends, or meeting with co-workers on new projects, having multi-use countertops will increase functionality and purpose in the kitchen. Current trends include expansive butcher blocks, stainless steel islands and underlit glass countertops that come in an array of colors and patterns.
Photo Credit  /  ThinkGlass
3.) Eco-friendly materials: In addition to energy-efficient appliances, more people have become drawn to eco-friendly materials that can be showcased throughout the kitchen. Many eco-friendly products lend themselves to a natural look which integrates well with high-tech gadgets. Picture an electronics charging station on top of a solid bamboo block or an espresso machine on top of an IceStone recycled-glass countertop. Environmentally-friendly materials mesh well and bridge the natural and technological features of a contemporary kitchen, offering a perfect representation of Denver's growing aesthetic and discerning style.
Photo Credit  l  afroglobe.net
Remodeling your kitchen with modern ideas can help attract new-tech professionals in your area and will also provide timeless design if you intend to live in your home for awhile. For inspiration on adding leading-edge style and increased function in your kitchen, contact us. We have a team of designers ready to help you create a noteworthy space certain to impress the emerging new-tech market.
Save