24 Apr

Kitchen Renovation: Asking the Right Questions Before You Start

Before you start your Denver kitchen renovation, it's important to weigh all of your options and come up with a solid plan. In addition to establishing a workable budget, the planning process should include making a checklist of project goals and gathering design ideas. Inspiration can come from a variety of sources, including photo-sharing websites like Houzz and Pinterest, kitchen and bath trade magazines, online design forums, and a local home and garden show. You might even take a peek at newly-constructed or renovated homes for sale in your area to see what's currently trending in your neighborhood.

According to an article by The Washington Post, coming up with the perfect plan is all about being aware of what you want and what you can afford. Most people budget for semi-custom or custom kitchen cabinets, countertops, backsplashes, lighting fixtures and a kitchen island. What kind of material you choose for your countertops, as well as whether you opt for custom or semi-custom cabinets, will affect your budget. Ask yourself a few key questions before heading out to a Denver kitchen showroom to look at cabinetry and consult with a design professional.
1. Is this renovation solving a problem?
By investing in a kitchen renovation, are you solving a specific problem? Consider whether your current kitchen seems too dark or feels too cramped. Does your cabinetry need updating? Do you require more room for entertaining? Would you benefit from a better layout for cooking preparation? Look at problem areas and add them to your list of project goals.
2. Do you want to open up your kitchen space or enclose it more?
Do you currently have an enclosed kitchen that you'd like to open up, or a large, open kitchen that you'd like to increase the privacy of? Think about the impact of removing or adding whole walls, opening up doorways or adding pocket doors, half walls or archways to your existing space. Seek the guidance of an architect or structural engineer when your remodel plan includes altering the original structural design of the space.
3. Is there enough storage?
Does your current kitchen layout have enough storage space? Are there small appliances, cooking gadgets and other items taking up valuable space on your countertops because there's no other place to store them? As part of your kitchen renovation planning process, explore possible storage solutions, such as adding an additional pantry or choosing custom cabinets that provide convenient roll-outs, built-in spice racks, dishware pegs, cookie sheet slots, or a corner lazy-susan. If the space of your kitchen allows for it, an island or peninsula can also provide storage options.
4. How will you use your kitchen?
Some people enjoy doing a lot of cooking in their kitchens, while others prefer to bring home meals and use their kitchens as places to socialize or to work on homework. If you are someone who doesn't cook very often, consider purchasing new appliances that are less expensive than the deluxe, professional-grade ranges and refrigerators on the market. Instead, direct a larger portion of your renovation budget towards the purchase of semi-custom or custom cabinets that will provide the designer look you want with the storage options you need.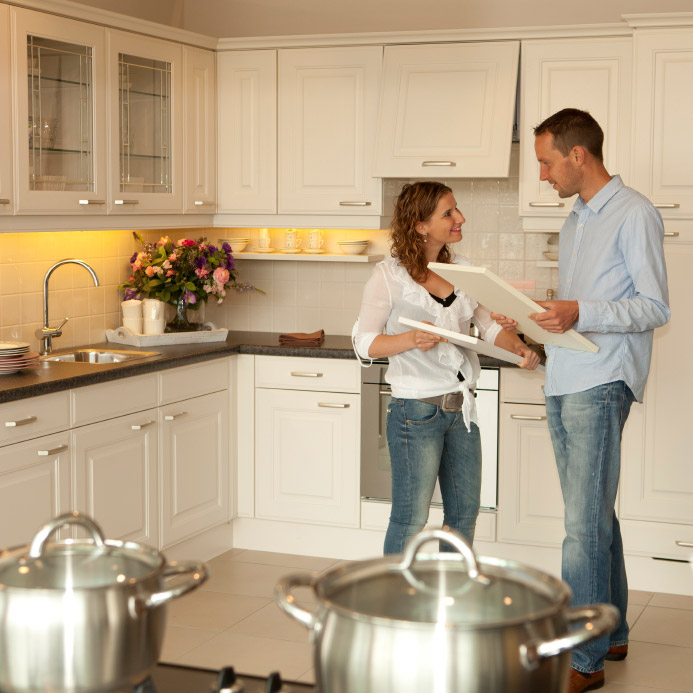 At BKC Kitchen & Bath, we specialize in cabinetry, countertops and accessories for many rooms in the home. Visit our exceptional showroom to gain inspiration before starting your renovation project. For more information and ideas about how to get started on transforming your kitchen into the dream kitchen you desire, please contact us.
Save