14 Mar

Cabinet Care: A Guide to Cleaning and Maintaining Your Cabinets

Wondering how to keep your new cabinets looking their finest? You ask, we answer! Here are methods for cleaning and maintaining your cabinetry, as recommended by custom cabinet maker Crystal Cabinets.
Upon Installation
Wipe your cabinets inside and out with a soft, damp cloth.
Dry immediately with another clean, soft cloth.
When cleaning your cabinets, always wipe in the direction of the wood grain.
Apply a thin coat of high-quality polish.
Choose a polish that does not contain silicone or wax and follow the manufacturer's directions for application. A high-quality polish will aid in protection from minor scratching, staining and excessive moisture.
Basic Cleaning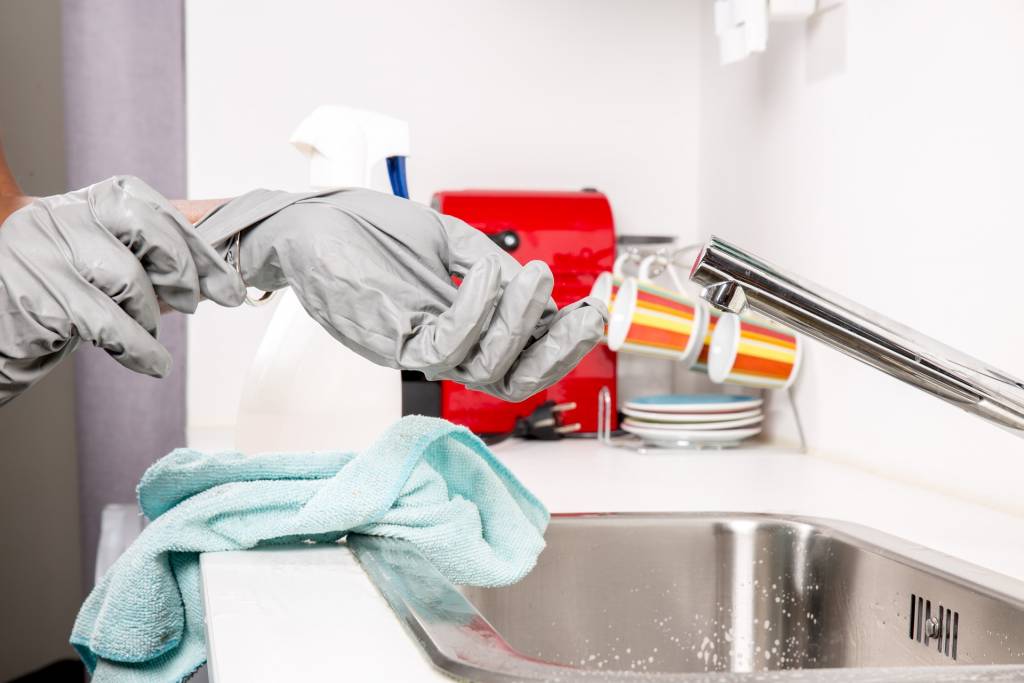 Routine cleaning with the appropriate materials will help prevent long-term damage to your finish.
Wipe with a dampened cloth and promptly wipe dry.
Use a clean cloth dampened with a solution of mild dish washing liquid and water to remove oil, grease, food residue or daily spills.
Do not use your dishcloth to clean the cabinets, as it may contain remnants of detergents and grease that can have a harmful effect on the finish.
Avoid using cleaners that contain the following: bleach, ammonia, citrus products, mineral oil, organic solvents; harsh detergents, strong soaps, abrasive cleansers; or self-polishing waxes (particularly products that contain silicone).
Paste wax is not recommend due to the build-up and yellowing effects over time. Instead, use a high-quality cream furniture polish.
Wipe Spills Promptly
Due to prolonged contact, many substances become difficult to remove and may stain or cause other damage. If a spill occurs, wipe it promptly with a damp cloth or sponge and dry the surface immediately. Be sure to use a blotting action rather than a wiping action to remove the substance.
Avoid Excessive Moisture
Moisture is one of the worst enemies of any finish. Consequently, cabinets near the sink and dishwasher, as well as the baseboards, are most susceptible.
Dry off any areas immediately where water has spilled.
Avoid draping dish towels or other wet items over doors.
Do not place coffee makers where steam vents directly onto cabinet surfaces.
Avoid Exposure To Harsh Cleaners
Harsh cleaners can damage the finish of your cabinetry. Avoid cleaners containing ammonia, bleach, citric acid (including orange and lemon oil) and organic solvents.
Avoid Exposure To Waxes
Most common self-polishing waxes can damage your finish. Take care to use only high-quality cream furniture polishes available from high-end furniture or paint stores.
Guard Against Scratching And Abrasion
Clean with a soft, damp cloth when necessary. Do not use scouring pads or abrasive cleansers, as they may dull fine finishes.
Guard Against Plastic And Rubber
Use felt or cloth under plastic or rubber objects, as their ingredients may react with wood counter tops.
Avoid Aggressive Acids
Don't use products containing aggressive acids or abrasives. They may cause damage to laminate finishes.
Cleaning Laminate and Melamine
Use a soft cloth to wash surface with warm water and a mild dish washing detergent; some "stiff" paper towels may leave tiny scratches that dull the surface.
Rinse with warm water and dry with a soft cloth.
Stubborn spots and stains can be cleaned with normal domestic cleaners or soaps that have no abrasive ingredients.
Thoroughly rinse all traces of the cleaning agent to prevent streaks from forming
Lastly, dry the surface with a clean, absorbent cloth.
With proper care, your cabinets should provide you a lifetime of use and satisfaction!