31 Jul

Benefits of a Homework Station

With the start of the new school year, it's important to stay organized with a stress-free study zone in your home. Most children, especially younger age, work best with structure and routine. Setting up a specific place for them to land after school to focus on homework will help them achieve success in the coming year. The benefits of a homework station include improved focus and a designated spot to keep school-related items together. This area will keep both your student and your home organized.
Find Your Balance
Many families agree that juggling after-school activities, homework assignments, meal preparation, and regular routines is a daily challenge during the school year. Integrating a homework station into your kitchen, family room, playroom, or even a hallway is a perfect way to handle daily tasks while keeping an eye on your student's activity and homework progress. A well-designed study nook can even double as extra storage for other kid-related toys and activities.

Photo credit  / Sita Montgomery Interiors
Keep it Organized
Open shelving is appealing. However, a well-designed desk area with functional cabinets and drawers controls clutter and provides a streamlined look. The key to functionality is organization; with organization comes improved focus. Allocate drawers for supplies such as pencils, scissors, markers, and paper to help your child get homework done without interruption. Additionally, incorporate station ports for smart devices and computers for a tech-friendly experience. Avoid taking up valuable surface space with lamps by installing puck lights beneath upper cabinets. As your child grows, you can make changes to the desk area to accommodate your child's evolving study needs.

Photo credit  /  SVK Interior Design
Utilize Unused Space
A homework station can be integrated into almost any room or extra spot in your home. With a creative design utilizing custom or semi-custom cabinets such as Medallion Cabinetry, you can turn a kitchen nook, basement corner, or even a hallway into the perfect study space. Custom cabinetry is a great way to blend a study area into the rest of your home. This makes it both functional and visually appealing. Plus, having extra storage is always a benefit!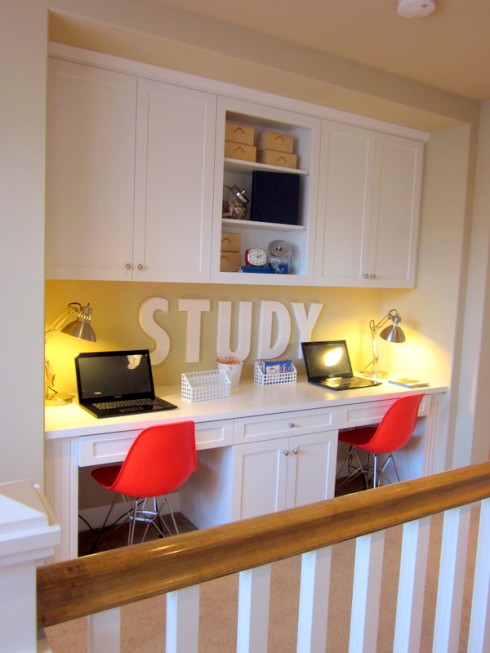 Photo Credit  /  homegoods.com
Make life easier and give your child tools for academic success with a dedicated study area that is useful, comfortable, and an integrated part of your home. Contact us to learn about the benefits of a homework station and to develop a design that will best suit your family's needs and reflect your home's style.