28 Mar

Tips to Achieving a Low Maintenance Kitchen

The kitchen is often the one room in the home that requires the most maintenance. From wiping down surfaces to mopping floors to de-greasing appliances, keeping your kitchen spotless can sometimes seem like an ongoing battle. If you're a busy individual or have a family, chances are you'd like to spend less time cleaning and more time doing more important (and fun) activities.

That goal can be achieved with a kitchen remodel that features a low-maintenance design. Here are some suggestions to consider during your planning process:

Tighten the Triangle
Tighten the work triangle of cooktop, sink and refrigerator to shorten the distance that you carry items. If your kitchen is spacious, add an island to bring the components of the triangle closer together.
Choose the Right Colors
Solid colors, especially black and white, as well as chrome and mirrored surfaces, tend to show dirt and smudges more prominently. Go with either a pattern, a medium-shade hue or a matte finish to help hide the blemishes.
Go With Less Grout
Tile on the floors, counters, and backsplashes are a great aesthetic, but roughness on the surface, along with the presence of grout lines, can trap dirt that requires fierce scrubbing to remove. If you like the look of tile, try going with larger squares – this will minimize the number of grout lines and offer more flat surface area. When considering countertops, look for materials that are non-porous, smooth and easy-to-clean.
Eliminate the Grime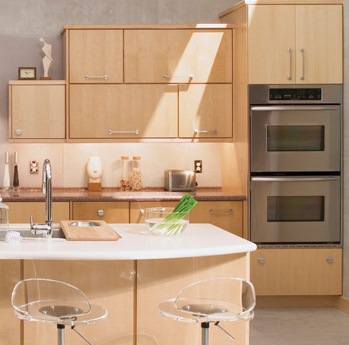 You can easily tell which cabinet and drawer fronts you use most frequently, because they tend to collect the most oils and stains from your fingers. Having smooth or slab drawer fronts on your cabinets rather than 5-piece moulding or raised panels will help reduce the amount of surfaces on which grime can collect. Another option is to eliminate handles and pulls, which can also gather dirt, in favor of doors and drawers that open through an edge depression or with a push.
Achieving a low-maintenance kitchen shifts the focus from scrubbing and cleaning to cooking and interacting with family and friends.
To find out how we can help accomplish this for your Denver kitchen remodeling project, please contact us.