23 Sep

The Value of White Kitchen Cabinets

If you're considering a remodel and looking for design inspiration, you'll discover that white kitchen cabinets remain a popular choice for many homeowners. At first glance, white may seem bland and ordinary, however there are many advantages to choosing this base color for your design.
Space Expansion
As a great reflector of light, white cabinetry brightens and adds cheerfulness to any room. This welcoming ambience energizes morning routines and brings calm to evening slowdowns. Additionally, white-painted cabinets create an illusion of spaciousness that may or may not be present in real life. This is especially beneficial for smaller, efficient kitchens that would otherwise feel cramped. Whether bright white, creamy white or white with a glaze, a light-colored palette provides a crisp, clean appearance.
Contrast Opportunities
Not only do white cabinets brighten a space, they also act as the perfect canvas for design variations. Whether contemporary, traditional or a mixture of styles, you can bring visual interest to your kitchen with opposing colors and cabinet details. For example, a dark painted or stained center island or hutch will complement a lighter perimeter. Dark base cabinets paired with white upper cabinets add a striking contrast and draw the eye upwards to further enhance a sense of spaciousness.
Colorful Accents
With white kitchen cabinets, you have the freedom to add colorful accents to energize the room. This can be accomplished with a colorful appliance, such as a toaster, standing mixer or even a cooking range. You can also display bright tableware inside open or glass-front cabinets to provide a lively pop of color. Cabinet hardware pieces – such as black, gold or bronze knobs and pulls – look especially great against a white backdrop. With white cabinets, countertops and backsplash color and texture options are endless. Be creative but also be strategic with your accent choices. Too many colors clustered together will quickly clutter the room.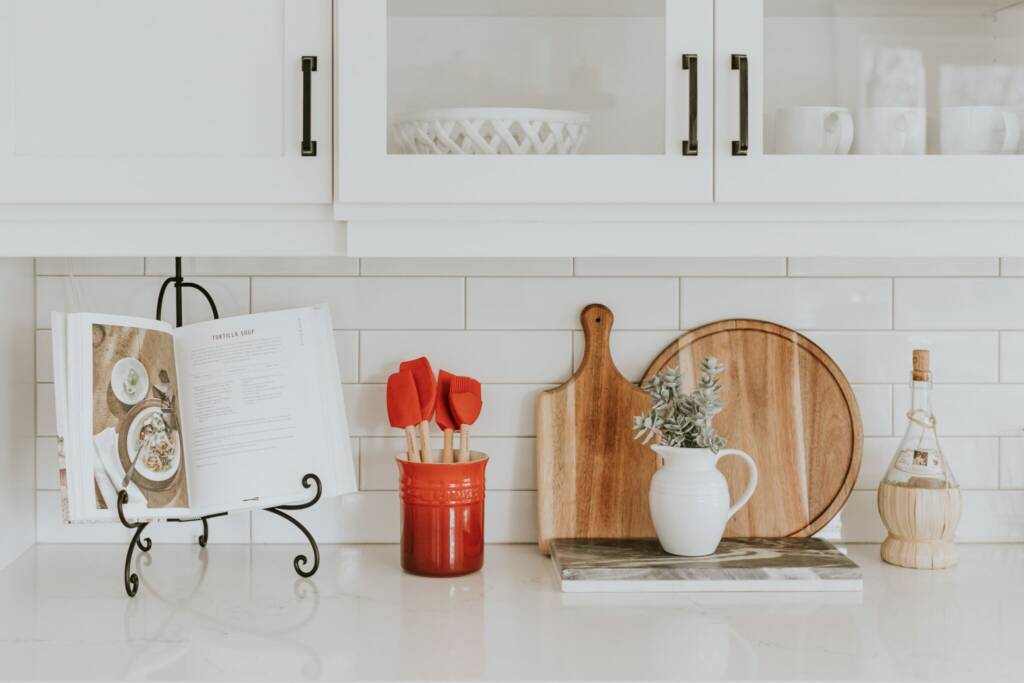 No matter the style of your home, a kitchen anchored with white cabinets provides a crisp, fresh appeal to a wide range of design possibilities. Even better, it visually enlarges the space and helps reflect available light, which is great for food preparation and daily tasks. It's no surprise that white cabinets remain very popular in today's kitchen remodels, as they continue to provide timeless appeal.