03 Jun

The Purr-fect Pet-Friendly Kitchen Renovation

It's no secret that people in Denver love their pets. Why not create a pet-friendly kitchen renovation that includes special features for your furry family members? Your animals will be affected by the renovation as they learn to navigate around the new space. But, they can also influence some of the decisions along the way. Here are some tips to make your home more suitable — not only for you, but for your pets as well.
Avoid Cat Catastrophes 
Open shelving is a great design element in a kitchen, but it can become a climbing disaster for an indoor cat, especially when you're not home. To keep your cat safe and your kitchen in good condition, opt for cabinets with glass doors instead. You can get the same visual appeal that open shelves offer, without worrying about your kitchen wares. If you do include shelves in your design, place them high and in-between cabinets.  Your cat will feel less inclined to jump from awkward angles to reach upper shelves, and your dishes and cooking utensils will remain in a safe zone, free of fur and disruption.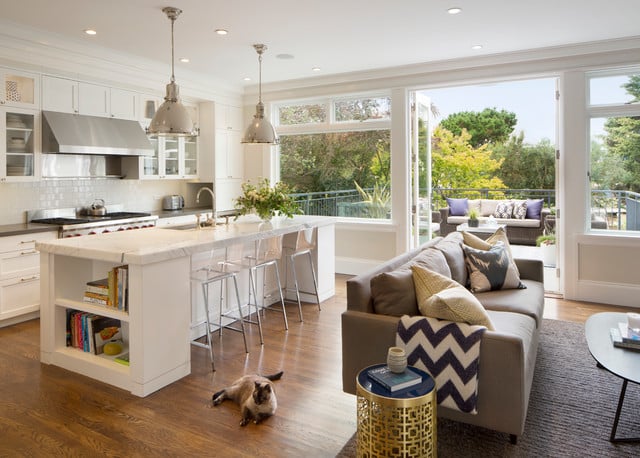 Photo credit  l  Verner Architects
Keep Your Dog By Your Side
If you have a large dog, or even a small devoted dog, you know how important it can be to share space in your home with them. Especially in the kitchen, a loyal dog will likely want to stick by your side and may, in turn, get underfoot. When designing your new kitchen, think about the measurements of walkways and how you're going to move around the room while prepping, cooking and cleaning up. To show support for your canine companion, consider creating a space that will allow them to lounge near you without disrupting kitchen flow. Add a deeper area under the island or a nook in the corner that can house a pet bed. Your dog can remain close by while you prepare meals (and perhaps, to his delight, you'll drop a morsel or two.)
Photo credit  l  RLH Studio
Give Pet Dishes Their Own Spot 
In an organized kitchen, every dish has its proper place. A great addition for your pet, and for you, is a space to keep food and water bowls tucked away. This pet dish spot also means you're less likely to trip over and walk into water bowl puddles. Add a pullout drawer in a base cabinet or place a tray hidden within a piece of toe kick for additional hiding places. For a pet that is used to snacking throughout the day, utilizing a low-placed shelf in an open cabinet or on a wall will leave food accessible while also keeping it out of the way. A Denver custom cabinet with built-in storage can be added to conveniently store your pet's food nearby.
Most people would agree that a pet is a loving member of the family. Making accommodations for the needs of these furry ones can easily be achieved through thoughtful planning and design. If you are in need of more function in your pet-friendly kitchen renovation, contact us for innovative design ideas.