16 Oct

Make a Splash with These Backsplash Designs

One of the great benefits of having backsplashes installed in your kitchen and bathrooms is the ability to change them when you desire a new look. If you're planning to embark on a remodel in your Denver Kitchen or bath, you should begin with choosing cabinetry and countertops that will meet your design needs. Then, consider what lighting options, flooring and wall paint will best exemplify the look you are going for. Once you have chosen these components, you can begin to explore backsplash ideas that will give your room a finishing touch.

Whether you favor a classic design or a backsplash that has artistic zest, narrowing down the best design and material can sometimes be challenging due to so many available options. Every New Year brings fresh ideas and products to the design scene; according to a recent article by improvenet.com, choosing the best backsplash can be a formidable task for some homeowners because of this. The basic purpose of a backsplash is to catch food and oil splatter and protect walls from water. Yet, a backsplash can also serve as a cosmetic enhancement to a room and should therefore be carefully considered.

Depending on your budget, your personal style and your kitchen or bathroom design, there is a backsplash option perfect for your space. These five popular trends might help narrow down the search.
Natural stone
Natural stone has been a consistent material choice for some time now, and studies show that its popularity for the kitchen and bath remains strong. Whether you prefer a slate, soapstone, granite or marble backsplash, natural stone has a timeless appeal that is perfect for any home décor. Backsplashes are available in tile or slab form and can either match your countertop or be a contrasting color and texture. Natural stone is tough and durable and therefore a great choice, however it does require regular sealing. Additionally, slate and soapstone can easily scratch, but wiping them with a dab of mineral oil will usually make the scratches magically disappear.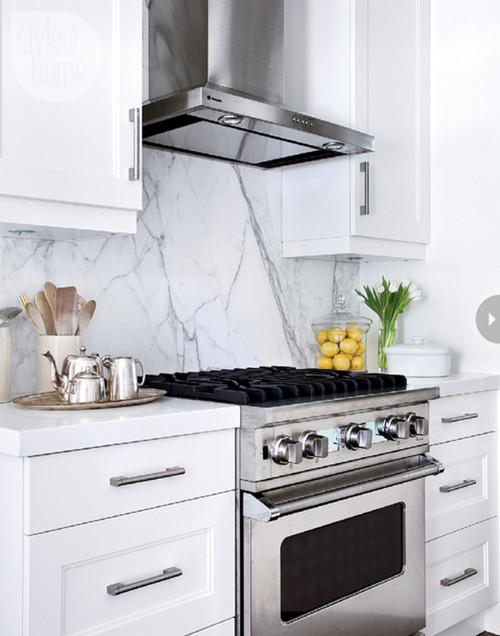 Photo credit  l  Gardenweb.com
Pebble mosaic
A pebble mosaic is a backsplash material quickly gaining popularity in both kitchen and bath design due to its 3-dimensional appearance and variation of color and texture. Simultaneously complex and natural, a backsplash made of pebbles will impress almost any viewer. Upkeep can be a bit of a challenge due to the excess amount of grout used, however the overall beauty and uniqueness of a pebble backsplash will make the upkeep worthwhile.
Photo credit  l  Better Homes & Gardens
Stainless steel and bronze
If the sleek look of stainless steel or oil-rubbed bronze appeals to you, a metallic backsplash might be the perfect option for your design. In a modern or industrial-style home or loft, metal elements make a dramatic statement. So, too, can a stainless steel or bronze backsplash in your kitchen or bathroom. Metal backsplashes are available in solid sheets or tile form, and both options are appealing in their own way. A solid sheet that is has no grouting will help keep dirt and grime build-up away, but the smoothness of the material also has a tendency to show dents.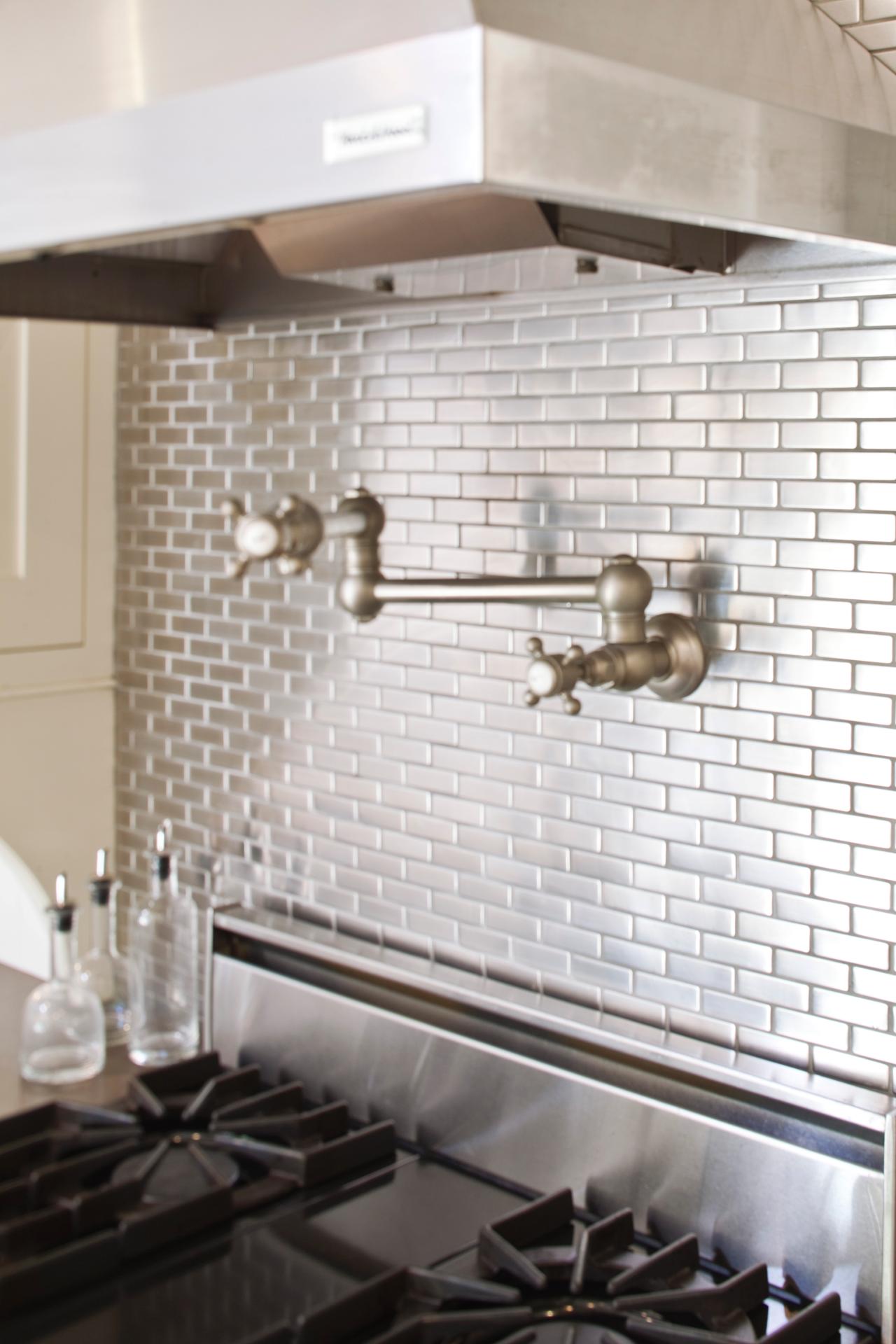 Photo credit  l  HGTV
Chalkboard
For something fun and unconventional, consider adding a backsplash made of chalkboard paint. Whether you're an artist or you just like to doodle, having a chalkboard backsplash adds an interactive element to your kitchen or bath that can be shared by everyone. The paint is easy to apply, affordable, and adds an engaging characteristic to the room. Using a chalkboard backsplash in the kitchen creates a clever way to jot down shopping lists, exchange messages with family members and plan out recipes.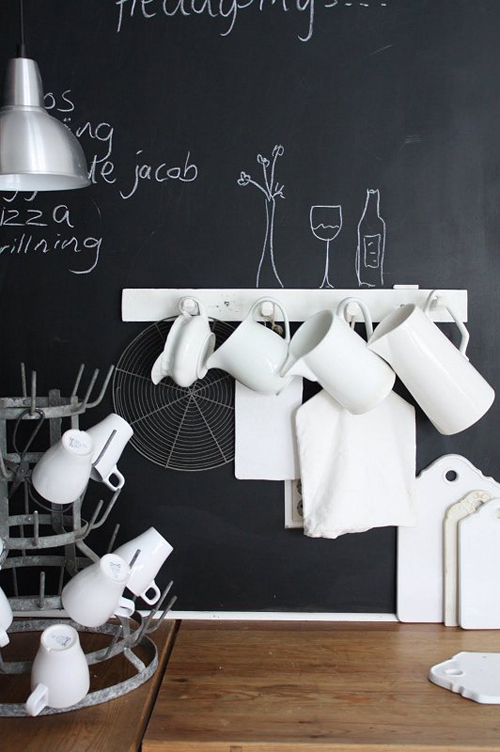 Photo credit  l  Handmade
Glass
Due to its timeless design, versatility and sustainable aspects, glass has become a very popular backsplash option. In particular, recycled glass material is very appealing to homeowners who seek to incorporate green products into the home. Classic subway tiles and mosaic patterns work well in almost any décor, and with an extensive color spectrum available, finding just the right backsplash is sure to be a breeze. Although cracks can be difficult to repair, glass tile has the benefit of being resistant to both mildew and stains.
Photo credit  l  DecorPad
At BKC Kitchen & Bath, we dedicate ourselves to helping customers with every component of their kitchen and bath design. Visit our Denver cabinet showroom for more inspiration and ideas, as well as information on backsplash trends.