15 Jun

Liven Up Your Kitchen With Custom Colors

White, grey and even black are predominant colors in design, but sometimes a splash of color is just what your home needs.  If you are hoping to incorporate a bold color into your remodel, consider how much of the color you want and what shades can be used.  If you are planning on having a diverse palette, make sure you select custom color cabinets that complement. Or, include a proportionate amount of white and grey to help breathe life into the space.
Custom Color Cabinets
You do not need to visit a custom cabinet maker to get the color you want.  Companies like David Bradley Cabinetry offer custom paint programs to help you achieve the perfect shade while sticking to your budget.  If you are going to paint cabinets an accent color, there are a few options for achieving the look; the island is a popular choice, but painting just the bottom perimeter cabinets, or using a colored hutch as an accent piece, are also great options.

Photo credit  /  Design-Craft Cabinetry

Unexpected Options
As far as color goes, sometimes it can be found in the unexpected.  Warm wood tones or refreshing metal accents can be the just spark your kitchen needs.  Adding color refers to more than just paint on the walls; it can also be found in metal light fixtures, a wood hood over your range, or even an appliance that pops with color.
Unique Upholstery
The key to successfully incorporating an accent color into your kitchen is to ensure that the space will still look cohesive with differing elements.  Upholstered chairs at your island, or bench seating in your breakfast nook, are perfect places to incorporate a fun pattern without compromising the overall design of the space.  Do not forget about throw rugs in higher traffic areas; these will add colorful elements to your palette as well.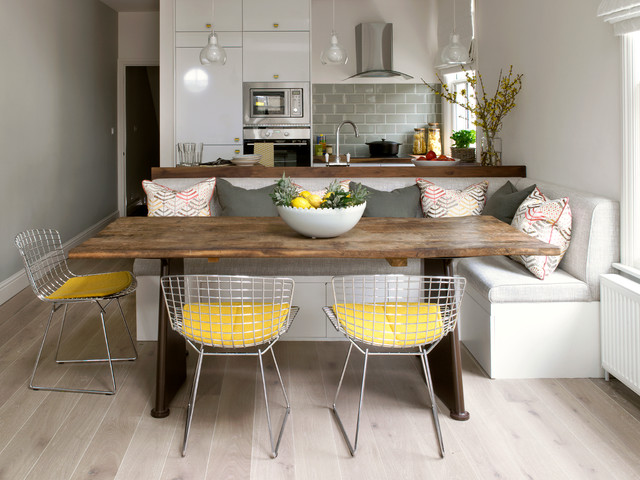 Photo credit  /  Hannah Brown
If you are not ready to go bold with color in many places, small accessories against a neutral background will really pop. Whether  you are wanting to incorporate big and bold colors into your kitchen remodel, or simply punch up smaller parts, contact us and ask our designers about the custom paint programs available.
Save