21 Jan

Custom vs. Semi-custom Cabinetry
BKC Kitchen Cabinets Denver
Custom vs. Semi-custom Cabinetry: What are the Differences?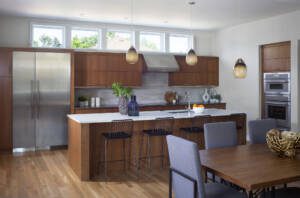 Many homeowners want their kitchens to be the ideal place for preparing meals and spending time with family and friends. With an overwhelming choice of cabinet options, it can be difficult to choose what will work best to accommodate your space as well as meet your individual design needs.
A good way to narrow down the choices is to consider how you would like your cabinetry to be utilized. Do you prefer form or function? Purchasing stock cabinets from big box stores can be a bit like buying merchandise off the shelf – although more affordable and quick to deliver, they tend to be limited in versatility and overall quality. Sizes are standard, design flexibility is limited and door styles and finishes can't be modified. Although stock cabinets are appropriate for some situations, semi-custom cabinets and custom cabinets offer a much wider range of options.
So what are the differences between custom and semi-custom cabinetry?
One way to view custom cabinets is to know that, for the most part, the sky's the limit. All that you imagine can become reality, and the design you create will be uniquely yours, from start to finish. Aside from customizable door styles and colors, you can pick and choose specific materials, such as exotic woods, specialty laminates, veneers and even metals. Additionally, each cabinet can be individually tailored to fit almost any configuration, from high walls to angled ceilings to hard-to-reach corners. And if you're looking for unique storage solutions, the options for custom cabinets are quite endless. From specialized drawer dividers to hidden spice racks to appliance garages, you're sure to cover all the bases when it comes to incorporating your personal storage preferences into your kitchen.      
A hybrid between stock and custom, semi-custom cabinetry offers a nice range of design choices at a mid-range price. With more durable construction than stock cabinetry, semi-custom cabinets can be modified in more ways, including dimensions, wood species, finish choices and size options for doors and drawers. By adding accessories such as decorative molding, glass inserts and turned legs, a basic kitchen can quickly become an eye-catching focal point in your home. While semi-custom cabinetry may not have all of the bells and whistles of its custom counterpart, individual expression can still be achieved with a variety of modification choices.    
Whatever your dream kitchen consists of, let us help you navigate through the decisions. Our knowledgeable design staff will discuss cabinet options with you and present the best solutions for both your budget and your style. Contact us for a complimentary consultation.