05 Feb

Work Triangle vs. Work Zones in Your Kitchen

How to Replace the Work Triangle in Your Kitchen Renovation

When it comes to a kitchen renovation in Denver or elsewhere, many designs and layouts adhere to the popular and efficient work zone triangle. The refrigerator, range, and sink are placed as if they were points on an equilateral triangle, creating an efficient kitchen space that makes it easier to move between your most-used appliances.

While many traditional kitchens will thrive under this layout, it can also pose some challenges when multiple cooks are added into the mix, different appliances are incorporated, or the size of the kitchen is expanded. So how can you change your layout while maintaining an efficient kitchen?

By thinking about your kitchen in work zones, you can create a dynamic space, even if it breaks up the triangle. Here are some ways to think about your kitchen in work zones:
Routine Appliance Zone
For those with a morning coffee or tea routine, having a space dedicated to certain tasks will help keep small appliances organized and stored in an accessible area. In addition, delegating cabinet and drawer space for the tools needed to complete these functions will keep the zone simplified, thus making it usable for other tasks as well.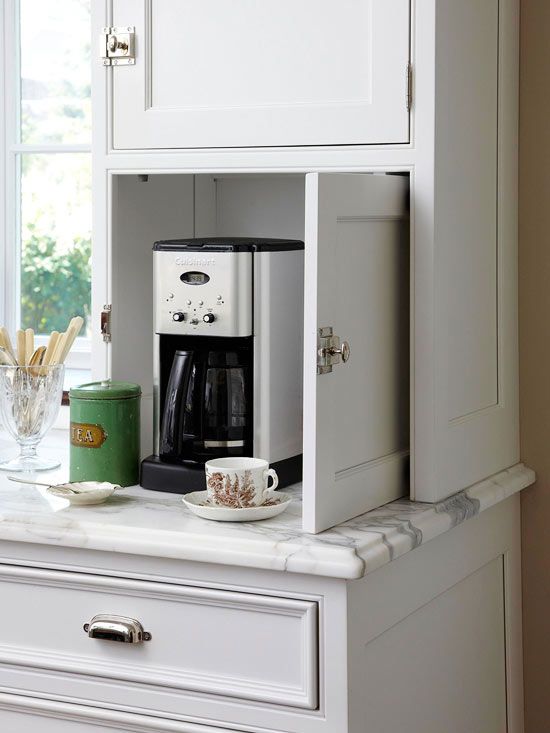 Image: Better Homes and Gardens

Food Prep Zone
As the norm for having just one cook in the kitchen has changed, having multiple food prep zones will alter the original working triangle and make sufficient room for everyone. Landing areas between the refrigerator and the sink, or the sink and the range, allow for separate food prep and cooking spaces and help avoid a cramped kitchen.
Entertaining Zone
The kitchen is often the hub where people gather.  As such, a peninsula or island can be a great place to entertain guests while still remaining productive in the kitchen. This space can also be used for family workspace so that time can be spent both preparing a meal and overseeing kids' activities. Either way, this zone is a great suggestion for spending time with guests in the kitchen while simultaneously serving as a prep area.
Clean Up Zone
Placing related appliances near one another, like the dishwasher next to the sink, is a great way to create a dedicated clean-up zone that won't interfere with other kitchen activities. Add a pull-out trash and recycling cabinet nearby to bring even more functionality to the zone. The clean-up process is typically the last step to undertake in the kitchen; this dedicated zone will enhance efficiency so that less time is spent doing work and more time is spent enjoying your time at home.
Whether it's the tried-and-true kitchen triangle or space optimizing work zones that you prefer, our skilled designers can offer insight into kitchen renovation ideas that will work best for you. To get your kitchen ideas started, visit our showroom and consult with one of our designers.