13 Jan

Revive Your Kitchen in 2016

Rolling into the New Year, we're beginning to see a variety of new trends for your Denver kitchen design. Homeowners can expect to see a greater influence of technology, a rewind to 80's glam décor, and a strong nod to mid-century modern design. Whether it's a fresh look you're after or a comple

te makeover in the kitchen, here are ideas gaining momentum.
Pop of color
If you're looking for something striking to add to the kitchen, create a pop of color. Many manufacturers of sinks, cooktops, cabinetry and small appliances offer products in a variety of bold colors and textures. Additionally, custom and semi-custom cabinet companies, such as David Bradley Cabinetry, have a custom paint color program which gives you the freedom to choose from a full palette of hues. For instance, display a red blender atop a neutral-toned countertop or stage a free-standing range, such as Bertazzoni, next to bright white cabinets. These strategically-placed objects of color will draw the eye into the room and create an exciting design appeal. Be careful, however, not to overload the color scheme with too much variety. Less is definitely more in this scenario.
Flashback to the '80s
Env
ision the glittery look of the '80s but with a more elegant twist. Mirror backsplashes, metallic tile, and brass accents with a satin finish will bring elegance to your kitchen. This can be accomplished without the cheapening effect of plastic elements once common in 80's-era design. High-gloss cabinetry, such as the Soho line by Crystal Cabinet Works, will give a strong pop-art appeal and bring a fresh, fun look to your kitchen. If you're feeling particularly bold, run neon lighting along the underside of a cabinet or countertop to give it that "Miami Vice" look.
Technologically speaking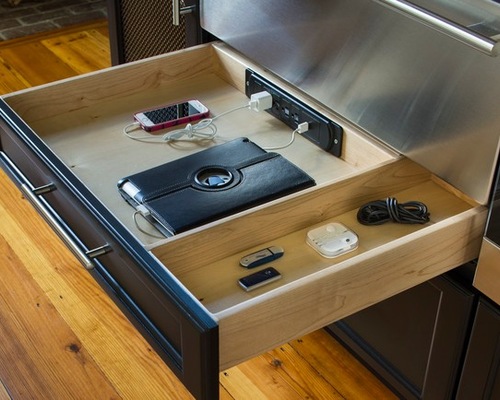 With mobile technology continuing to evolve and expand, many homeowners are bringing electronic devices into the communal kitchen space. Options for making a kitchen tech-friendly include adding electrical outlets that have phone and tablet charging capabilities. Dedicating custom storage space gives gadgets and devices their own place to live while keeping valuable counter space free. State-of-the-art "smart" appliances, such as Samsung, are also on the rise in kitchen design, with the latest high-tech models offering unique internet capabilities and phone app connections to help busy homeowners stay on top of their food and cooking needs.
Mid-century minimalism
Clean lines and a minimalist mentality continue to be a focal point in contemporary kitchen design. With an emphasis on uncluttered space and smooth surfaces, mid-century modern design has recaptured the attention of many homeowners. Streamlined cabinetry with flat-panel door styles and light wood stains or paints bring a sense of ease to the room, helping to offset the stresses of life outside. Complement cabinetry with warm-colored granite or engineered quartz countertops and sleek, stylized lighting fixtures.
Going forward
Kitchen design has great potential going into 2016. Combinations of old concepts and new trends, mixed with state-of-the-art innovations and streamlined décor, will enhance even the smallest of spaces. If you are considering a Denver kitchen design for your home renovation, contact us.