03 Apr

Renovation Ideas: Creating an Open Family-Style Kitchen

If you have a young family or several generations living under one roof, you are likely interested in a family-style kitchen. Small kitchens just can't accommodate all the family activities that take place in today's kitchen space. According to a recent article by Philly.com, a kitchen renovation can create a family center much like the living room of the past. A renovated Denver kitchen is where your family can eat, entertain, do homework and work on projects together.

Rather than opting for a cheap cosmetic fix, some families invest the money in a total kitchen renovation to increase their home's value and improve their family's lifestyle. When thinking of a Denver kitchen design for your distinctively Colorado home, enlist the help of design professionals.
Adding a kitchen island
Few galley-style kitchens have the space for a kitchen island. Creating a large, open kitchen allows plenty of room for a kitchen island that can be used for not only cooking and food preparation but also for gathering around and eating at. When planning your kitchen design, ask an expert about how to best situate the island to get the most use out of it. Your kitchen island can include storage cabinets, an eating area, a sink, a cooktop, several small appliances, even a book shelf or wine rack. Customize your island to cater to your family's specific needs.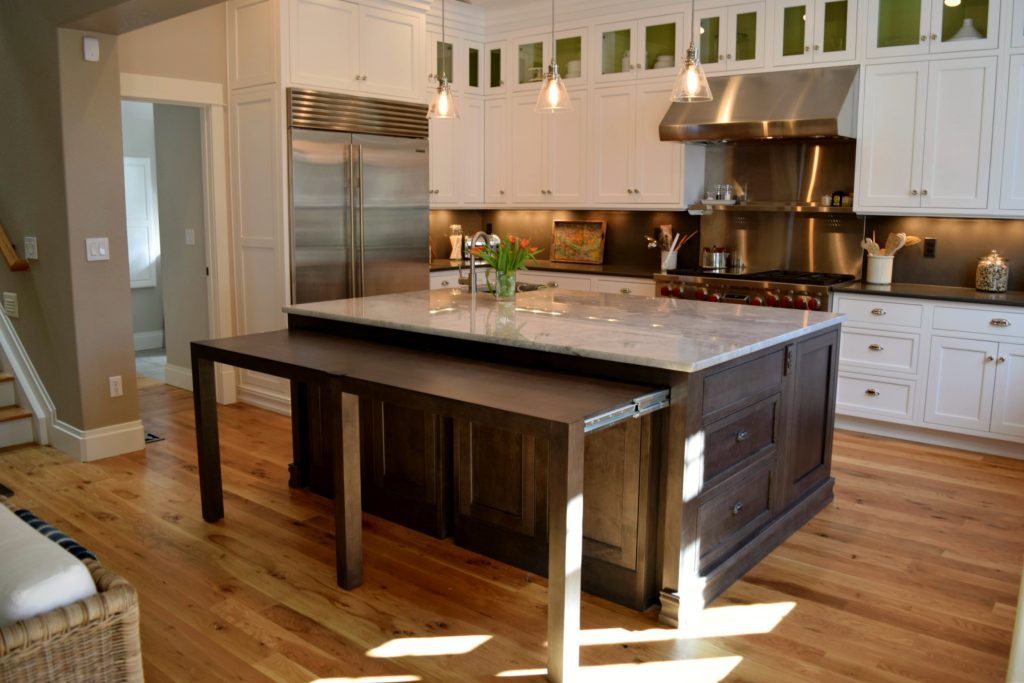 Creating cohesiveness
Designing an open floor plan for the kitchen isn't just about knocking down walls and adding cabinetry, it's also about creating cohesiveness. Making choices not only about the size of the kitchen but also about how the space surrounding the kitchen will be utilized is essential. Do you prefer to have a dining room incorporated into the floor plan or perhaps an informal lounge or family room area? According to an article on Houzz, Natalie Myers poses these questions to consider: "As people move from one space to the next, which ones make the most sense to be near each other? An obvious adjacency is placing the dining table near the kitchen, but then do you want an area for comfortable seating immediately nearby, a small workspace, or maybe a children's play area? It all depends on your lifestyle." A rule of thumb when designing an open, family-style kitchen is to maintain cohesiveness by using consistent wall color, flooring material and complementing interior décor throughout the space.
Splurging on accessories
If your kitchen renovation is on a budget, opt for affordable, quality semi-custom cabinets like Medallion Cabinetry and splurge on eye-catching accessories, such as decorative cabinet hardware, hammered-steel sinks, touchless faucets, electronics docking stations and dramatic light fixtures. Another option for design might be to install custom cabinets as focal points in or around the kitchen and mix in less expensive alternatives that complement the design.
When designing a large, open kitchen, remember you will likely need more cabinets and countertops as well as larger light fixtures to ensure everything is to scale. Get creative with color choices, backsplash material and flooring options.
At BKC Kitchen & Bath, we get excited about helping our clients design exceptional kitchens and baths. We have served homeowners, designers and builders in Colorado since 1978. For more information on design ideas for open, family-style kitchens, please contact us.
Save