22 Jun

Kitchen Remodel Checklist: 5 Points to Consider

When creating your kitchen remodel checklist, there are 5 points to consider to add versatility and function to your new space.

A home is created with various rooms that reflect the family within, but none reflect the lifestyle of its inhabitants like the kitchen. For cooks, entertainers, families, and individuals alike, the kitchen is the preparation space, the heart of the action, the community room that offers connection and warmth. This space should encompass an efficient, functional design, yet also evoke the personal style of its inhabitants.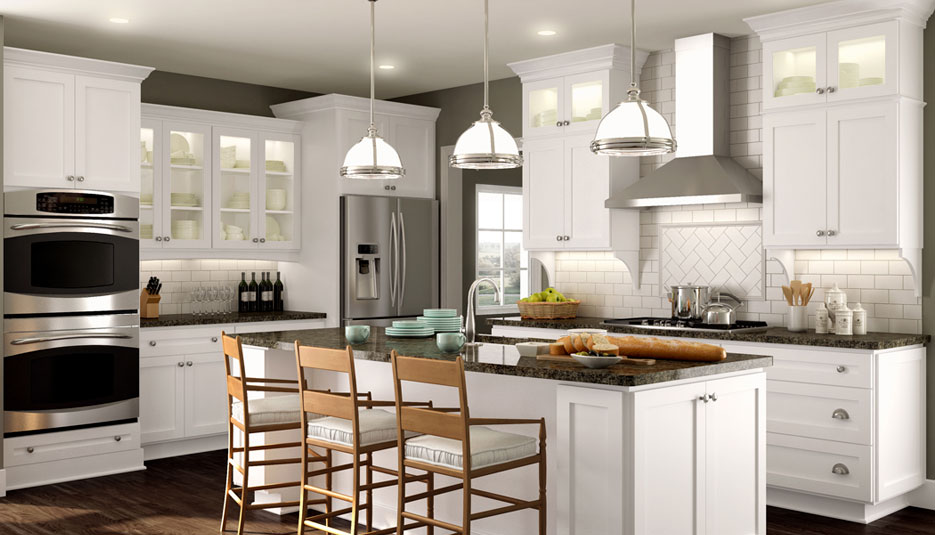 Photo credit  /  Crystal Cabinets
1. Size of the Space
The goal of a remodel is to make the allotted space the most efficient it can be while remaining stylish. Once you calculate your available square footage, you can begin upgrading or downsizing the design plans. For instance, will that island you love fit well in the space? Is that six-burner range the best size? Does your counter area allow for a double sink? Oftentimes, the design we have in mind requires some alterations to make the new room functional and comfortable. A willingness to compromise is key to a successful renovation.
2. Sufficient Lighting
Having proper lighting in a kitchen is important. Most likely, there will be open flames on burners and the use of sharp instruments. Plus, the kitchen is one room in the house with a higher percentage of hard surfaces and sharp corners. By installing proper lighting for cooking, you will help to ensure safety. It's also nice to incorporate softer illumination for non-cooking times, such as when you're eating or entertaining. Under-cabinet lighting strips and pendant lights with adjustable dimmers are great options to add to the design plan.
3. Workspace Flow
Pinpointing the flow of tasks and traffic in your kitchen can help determine the larger aspects of your design. For example, if more than one person will be prepping and cooking, having ample counter space and extra elbow room is vital. Many cooks prefer a work triangle in the kitchen, which offers the most efficient use of space by situating the sink, stove, and refrigerator in a triangle for convenient access. If your new kitchen layout does not directly connect to a dining room or breakfast nook, consider designating an area within the kitchen for informal meals, such as stools at one end of an island or along a peninsula This will keep the food-to-table flow uninterrupted.
4. Infrastructure
If it's possible to do so, utilize the current infrastructure of your kitchen to save on time, money, and materials. Not having to tear down walls and soffits or change out flooring or plumbing can help keep overall costs down. However, do be aware that older homes often require electrical and plumbing upgrades to accommodate new appliances and building codes. Be sure to consult with an architect, electrician and/or plumber to verify the best course of action for your project.
5. Planning a Budget
Much of remodeling comes down to dollars and cents. The financial parameters you set will determine the bulk of your project. Therefore, plan wisely for products and contractors to ensure that you receive the end result you desire without going too high above your cost proposal. Begin with a solid design and then alter or remove items as needed. Keep in mind that your budget should not be a point of discouragement. Simply focus on what you can do to create the kitchen of your dreams, rather than what you can't do.
BKC Kitchen & Bath offers comprehensive design and custom cabinetry and semi-custom cabinetry. For more information, or to obtain a complementary quote, please contact us.