13 Feb

Integrating Reclaimed Wood In Your Remodel

Denver Custom Cabinetry: Merging Old and New Ideas Using Reclaimed Wood

Some recent trends in home remodeling have helped fuse the gap between the old and the new in many homes in Colorado. Reclaimed wood, or lumber which has been salvaged and reused, can add unique and thought-provoking character to any renovation. If the kitchen truly is the heart of the home, this makes it a perfect place to apply reclaimed or salvaged lumber.

One way to utilize reclaimed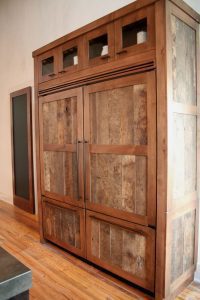 wood in the kitchen is to incorporate planks recycled from old barns. This wood is often rich in character, with patinas and imperfections that add to its visual complexity. Also, it makes you feel good to know that the environmental impact of architectural salvage is minimal. In 2012, BKC introduced reclaimed barn wood in a Parade of Homes kitchen in San Antonio, TX with a custom door style created by Crystal Cabinet Works. The stiles and rails of the doors are knotty alder, while the center panel is comprised of strips of salvaged barn wood, giving the cabinets an earthy, rustic aesthetic.
Another unique source of reclaimed wood specific to Colorado is timber that's been culled from remnants of the Waldo Canyon Fire of 2012. The Waldo Canyon Fire was the most destructive wildfire in Colorado history, burning for over two weeks in Manitou Springs, Woodland Park and portions of Pike National Forest. Though this was one of the darkest times in Colorado history, from the ashes new life has come to the once-thought- lost landscape claimed by the fire; burn-scarred trees are being harvested and put back to use by innovative contractors.
"Reusing lumber is one of the best choices for the environment… This is a step above Forest Stewardship Council (FSC) certified lumber. With reclaimed lumber we make use of a product already manufactured and, in many cases, keep that product from going to a landfill." Ryan Flegal, Broker, PropertyMix, Inc. via Green Home Guide.
Benefits of Using Reclaimed Wood
Versatile Use:  Reclaimed wood can be used to make anything you would normally use timber for, such as cabinetry, countertops, furniture and flooring.
Environmentally Friendly:  When reclaiming timber, you have a variety of exotic and common wood types      to choose from. Since these woods are re-purposed, the choices you make are completely guiltless.
Quality and Durability:   Reclaimed wood can be up to 40 points harder than virgin wood because it      normally comes from older trees, not first generation forests.
Lasting, Unique Beauty:   The story the wood has to tell is in its weathered, aged look. Reclaimed wood is an amazing conversational piece due to its timeless beauty and engaging story of its past life.
For more information on using reclaimed wood for your Denver kitchen remodel, contact the professionals with BKC Kitchen and Bath. We take pride in serving the residents of Colorado and look forward to helping you with your next renovation project.