17 Feb

Functional Kitchen Design for Staying at Home

Families have faced their share of challenges this past year. In particular, how to navigate extra time spent at home. New routines of virtual meetings, remote school learning, increased meal prepping and efforts to be healthy and safe during a pandemic have left some families feeling ill-equipped. Are you facing a similar strain? By establishing a Functional Kitchen Design for staying at home, you will alleviate some of these stress factors.
Narrow Down Necessities
As the heart of the home, the kitchen is often the landing spot for family activities. Now that daily routines require the kitchen to serve as office, classroom and study hall, many homeowners are discovering their kitchens lack adequate space and organization. Add in extra cooking and mealtimes, and efficiency and elbow-room become problems. Make the best use of your space by designing a layout that accommodates your lifestyle.
Some key points to consider:
What daily functions are you doing in your kitchen?
Is your current kitchen layout sufficient for these tasks?
What changes or upgrades would help make your lives easier?
Which kitchen features are must-haves in your remodel?
What are wish-list items you'd love to add?
Increase Space
Certain kitchens would benefit from having more square footage. In particular, older homes with enclosed kitchens or tight spaces. If this is your situation, you can alter the current layout of your kitchen by tearing down a wall or partial wall to open up the room. However, be sure to seek advice from a general contractor to determine the viability of altering the structure of your home.
If you don't have the option to remove walls, don't worry. You can still create more space with a strategic design that gives the illusion of space. For instance, wall cabinets that go to the ceiling, glass-front doors, or floating wall shelves.
Include an Island
If the dimensions of your kitchen will accommodate it, a center island or side peninsula is a great addition. Not only will this cabinetry provide extra counter surface, it will also provide extra storage – a winning combination in multi-use kitchens.
If you lack adequate space for a large center island, opt for a smaller mobile unit that can be wheeled aside when not in use. In multi-function kitchens, every bit of workspace helps!

Designate a Work Area
From remote learning to working at home, a dedicated desk area in the kitchen is a smart design option. Customized cabinets with features such as drawer dividers, hanging files, charging stations and designated space for a computer provide organization and a streamlined look.
An integrated office/study spot will help ease your workday and give your child tools for academic success.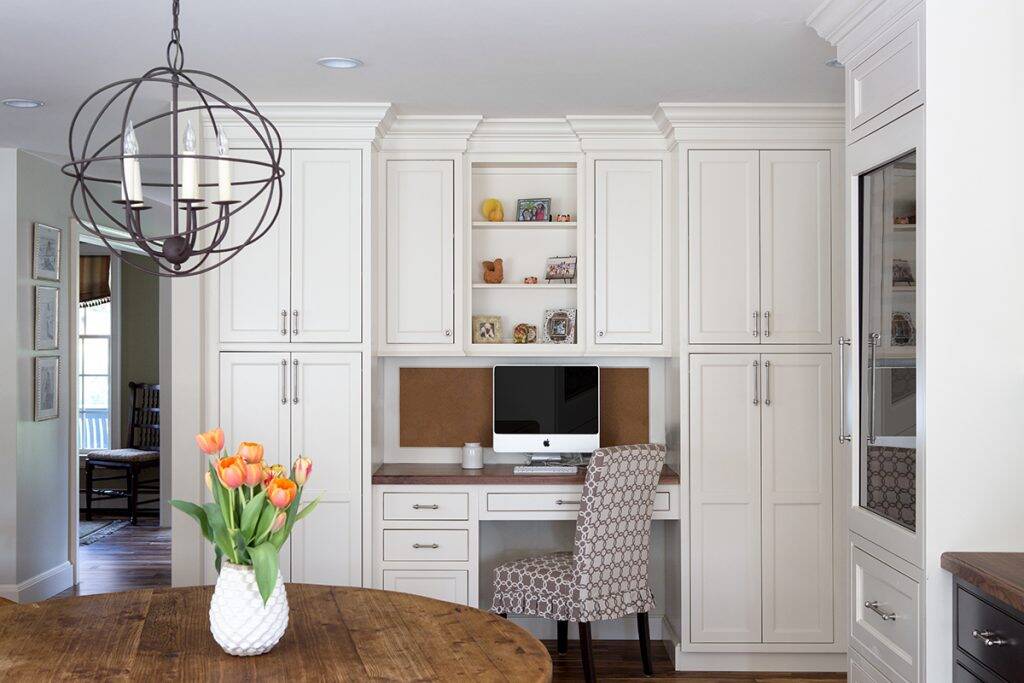 With the help of a professional kitchen designer, you can formulate a plan to optimize storage and efficiency and bring peace of mind to your busy schedule. Contact us to develop a Functional Kitchen Design for staying at home that best suits your family's needs and lifestyle.