14 Aug

Avoid Fads in Your Kitchen Design

When it comes to remodeling your kitchen, there is a difference between being "trendy" and being "on-trend." It is true that doing a full kitchen remodel will give you the most return for your investment. However, if you focus all of your resources on designer fads, you could risk not recouping all that you invested if you plan to sell your home one day.

According to Remodeling Magazine's survey 2014 Cost Vs. Value, a large high-end kitchen remodel could cost over $100k. Whatever the level of investment for your kitchen remodel, most homeowners hope to gain a finished product that will look fresh for as long as possible. However, trends that are hot today may be out of vogue in a year, making your kitchen look outdated before you've had a chance to break it in.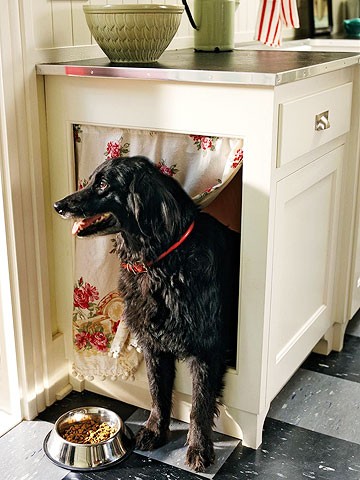 Pet Stations
Designing a kitchen with cats and dogs in mind is a nice idea if you are a pet owner, however it may not be the best choice for a new kitchen remodel. According to a press release from the National Kitchen & Bath Association, several kitchen designers who incorporated pet feeding stations, doggy faucets, pet beds and litter box cabinets reported pets either not liking or not using the special features. Keep in mind that, from a resale perspective, the future owners of your home may not have pets and therefore have no need for a doggy faucet or food station in the kitchen.
Pot Racks and Decorative Hoods
Although pot racks and decorative range hoods have been focal points in the kitchen for years, experts are now suggesting steering away from them in your remodel design. Despite being convenient, hanging pots can clutter up the look of your kitchen very quickly and also collect dust if not wiped frequently. The same is true for decorative hoods; venting your cooktop is an important feature, however, a large ornate hood can quickly fill up the room and become overly bulky. Instead, go with under-cabinet venting or a slim, streamlined hood. Add glass or ceramic backsplash tiles above your cooktop and cover the entire wall rather than just the standard 4 or 6-inch backsplash of the past. Choose neutral or complementing colors to ensure a cohesive look.
Granite Countertops
For the last decade, granite has been the most desired material for kitchen countertops due to its durability, glossy sheen and natural formation. According to an article by Building Design and Construction, 70 percent of kitchen designers recently surveyed said that quartz countertops are rapidly becoming more on-trend. Engineered quartz is both super hard and low maintenance and the palette of colors is vast. BKC's Guide to Non-Granite Countertops offers a comprehensive overview of alternate countertop materials.
Oak, Hickory and Pine Cabinets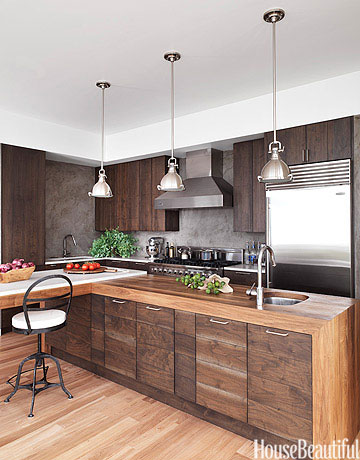 When it comes to choosing cabinet material, it is recommended to steer clear of oak, hickory and pine, unless you're specifically going for a rustic cabin or beach house look. These three wood species tend to have too much grain texture, not enough sophistication and an outdated feel about them. The most popular choice for cabinetry continues to be cherry, with maple and alder following close behind. However, on a steady rise in popularity is walnut.  Rich in both color and texture, walnut is a great choice for either classic or contemporary design. If you're not interested in an entire kitchen of dark cabinets, consider a walnut slab for your island or hutch countertop; it can be a beautiful contrast next to light or white cabinets.
Remember that when creating your kitchen remodel, it's good to design a plan that will not only meet your personal style but will also keep a sense of timelessness. For help in selecting custom or semi-custom cabinetry for your Denver dream kitchen, contact us.