02 Aug

To See or Not to See: Glass Options for Your Cabinet Doors

Glass cabinets add a sense of light and elegance to a kitchen or bath and offer an array of possibilities.  Whether the glass serves as a cabinet's center panel, or the entire door is made of glass sitting atop an aluminum frame, this transparent or semi-transparent material will add a sense of depth and openness to your space.  With all of the options available, the possibilities for finding the right combination to complement your design are endless.
Clear Glass
Clear glass tends to be used with the most versatility.  The plain transparency of the material adds a simplistic touch that can be paired with most any style, from traditional for displaying antique items to eclectic for allowing an array of colors to peek through.  The most important thing to keep in mind when incorporating transparent glass is knowing that items within the cabinets will be clearly seen.  If this is the look you desire, be sure to have the right color or pattern of dishware, toiletries or other items displayed to capture your chosen aesthetic.
Painted and Frosted Glass
Often used for a more contemporary design, painted glass offers a glossy finish with a sharp color.  Painted glass cabinets are typically used in a frameless construction and blend well with a slab door in rich tones.  In particular, Design-Craft cabinetry offers the Brava door, which is constructed with a glossy glass finish that sits atop an aluminum frame.  This makes the cabinetry both highly-durable and visually striking.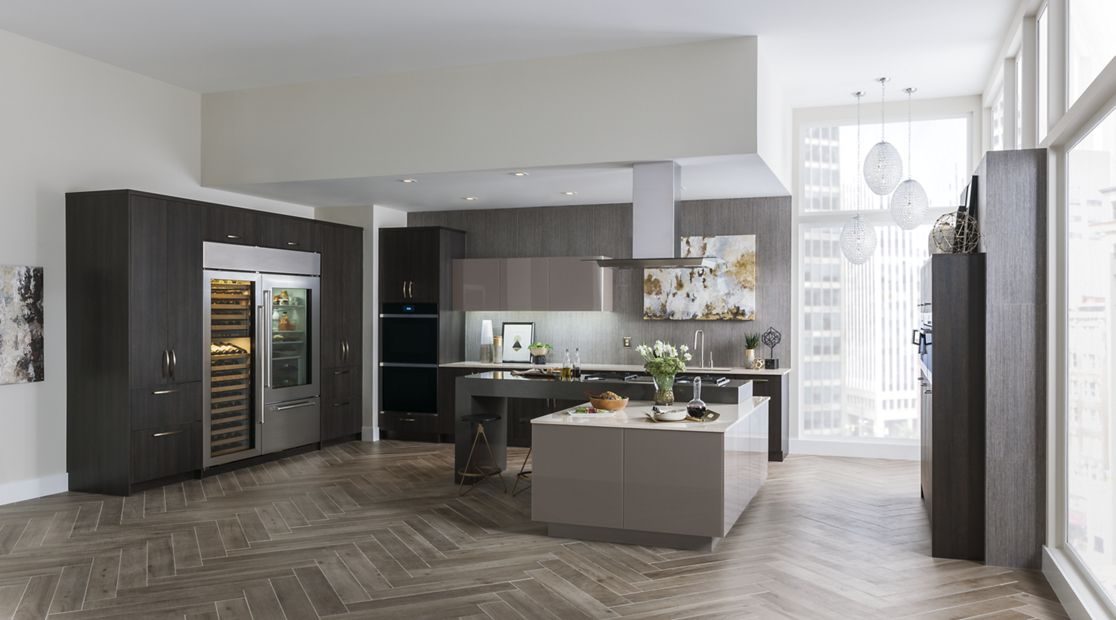 Image  /  Design-Craft Cabinetry
Frosted glass is another popular option to mix and match with sleek, dark woods or metal cabinets to enhance the straight lines of contemporary kitchens or baths.  You can get frosted glass in varying degrees of translucency, which allows you to obscure the interior of the cabinets while adding a different feel to the design.
Textured and Leaded Glass
The options for textured glass are virtually endless and can give your Denver kitchen or bath a unique style that will draw in all parts of the space.  From ribbed to bubbled, reeded to seeded, and even custom-designed patterns, your cabinets will pop with the added texture.  Creating an elegant, traditional feel, leaded glass has an appealing artisanal quality, which is perfect for a traditional or Old European design.  Keep in mind that textured glass cabinets can be harder to mix-and-match once you've picked a pattern, and your cabinets may tend to look outdated over time, depending on the design.  If you do choose to go with textured or leaded glass, be mindful of the pattern to ensure longevity, especially if you hope to rent or sell your home down the road.
Image  /  Crystal Cabinet Works
Don't forget that mullion accents can be added to glass cabinet doors to offer even more style and customization, such as with a crisscross or arched profile.  With so many glass selections available, all that is left is for you to decide which pattern will pair best with your style.  To see all of the options available to enhance your design, contact us or visit our showroom.
Save
Save
Save
Save