21 Nov

Kitchen Trends That Transcend

Differing regions throughout the country may exhibit variations in kitchen design styles, but there are current trends that seem to demonstrate universal appeal.
Colors & Textures
Although classic white kitchens remain a popular choice offering a clean, sophisticated look, gray is fast becoming the new "it" color – for everything from cabinetry to tile to walls. A white painted kitchen perimeter with a light gray island adds contrast and visual texture to any size space.
Warm tones of wood, such as cherry and walnut in dark browns and blacks, are popular alternatives to an all-white kitchen. As with gray, a dark wood island in the middle of a classic white kitchen offers a visual contrast that gives the eye a break.
Cabinetry
Simplistic cabinet styling has gained momentum, with a shift from traditional to transitional design appearing in kitchens across the country. The classic ogee-edge door style is being replaced by sleek, Shaker door styles in high gloss and high-pressure laminates.
Aluminum-framed doors with back-painted glass are another alternative to a traditional look, offering depth and a nearly frameless appearance.
Storage Solutions
In kitchen remodeling, cleverly engineered products such as roll-out trays, pull-out drawers, trash bins and Magic Corners offer great cabinet storage solutions, easier access and better functionality.
Removing soffits over the kitchen cabinets and running the cabinets straight up to the ceiling provides additional storage space for seasonal items or dishware that is not used everyday.
Frameless cabinets are a great way to gain more space in drawers. Additionally, the drawer beneath a cooktop, which is typically non-functional, can be turned into a 'scoop' drawer to store kitchen utensils.
Lighting
LED lighting is a great alternative to traditional light bulbs. Although the cost is a bit higher, LED bulbs last longer and are better for the environment.
In today's kitchen design, many facets can be showcased with a unique array of lighting options, including in toe kicks, under wall cabinets and even at the end of faucets. Most options are relatively inexpensive and add character to the kitchen.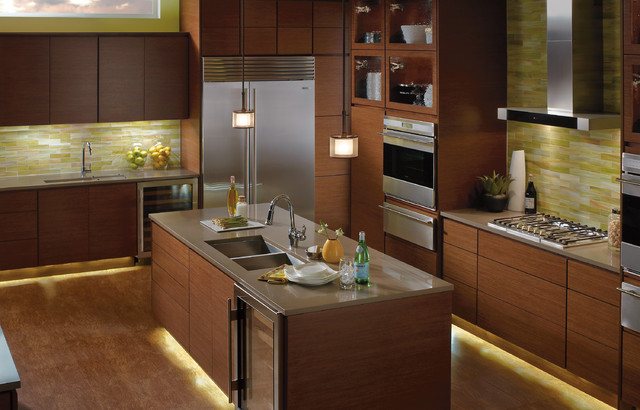 For further Denver kitchen remodeling ideas, call or visit our showroom.