20 Dec

Kitchen Design for 2014 – Colors, Cabinets and Countertops

\What can you expect to see in kitchen and bath design trends for 2014? According to a study by the National Kitchen and Bath Association, some current popular ideas will continue to flourish through the New Year. For a kitchen remodel in Denver, consider some of these options for your cabinetry, countertops, backsplashes and more.  

Color Schemes and Cabinet Features

Grey tones in the kitchen and bath continue to rise in popularity, but the leading color preference still remains white. As part of a traditional, transitional or contemporary design, white, off-white and white glazed cabinets offer an airy, clean look to any room. At BKC, we see many homeowners choose to use white painted cabinets along the perimeter of their kitchen, while a dark-stained island or rustic dining table offers a striking accent to the room.

The desire for tidy, organized kitchen arrangements has produced a significant growth in such specialties as appliance integration, pullout trash/recycling bins, soft-close undermount drawer guides, tilt-down shelves, and cabinet panels placed to conceal appliance fronts. As form and functionality become leading aspects of contemporary design, more and more kitchens will feature increased efficiency and a sleek, orderly appearance.

Backsplashes, Countertops, and Faucets

NKBA's study also noted that backsplashes made of glass are on the rise, while natural stone tiles are on the decline. Glass has great design versatility, bringing in different colors, lights, and finishes to any kitchen.

Another trend that NKBA revealed in their study was a decrease in granite countertops and an increase in quartz and engineered stone. Made from one of the hardest minerals on earth, quartz is considered extremely durable for kitchen surfaces. With eye-catching colors such as fire-engine red and apple green and the ability to add recycled glass or metallic flecks to the mix, it's no surprise that quartz has seen an amazing increase in popularity, rising from 69% to 80% since 2012. 

Of course, no kitchen design is c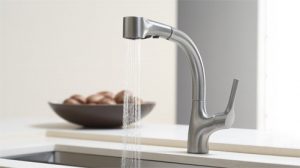 omplete without the right kitchen sink faucet. Pull-out faucets remain hot items, but pot-fillers and touch-activated faucets, which help save water in-between tasks (and keep your kitchen cleaner from bacteria) are rapidly becoming popular as well. Previously, oil-rubbed bronze and polished nickel were the main choices for finish colors on faucets. Now, satin nickel and bronze are the most desirable and complement almost any color scheme and style in the kitchen. 
Sustainable Kitchens
Altogether, sustainable practice and design continues to be on the rise, with more people choosing eco-friendly materials in their Denver kitchen remodel. For example, LED jumped in popularity from 70% last year to 77%, while CFL and incandescent bulbs remained steady. Designers and remodelers are also looking to incorporate rapidly renewable materials, like bamboo and lyptus, in both cabinets and countertops, as well as materials created with recycled glass, quartz, and paper products.
For help in designing your kitchen, contact us for advice and inspiration, or come visit us in our Denver showroom.