20 Nov

Going Urban: Achieving an Industrial Chic Kitchen Design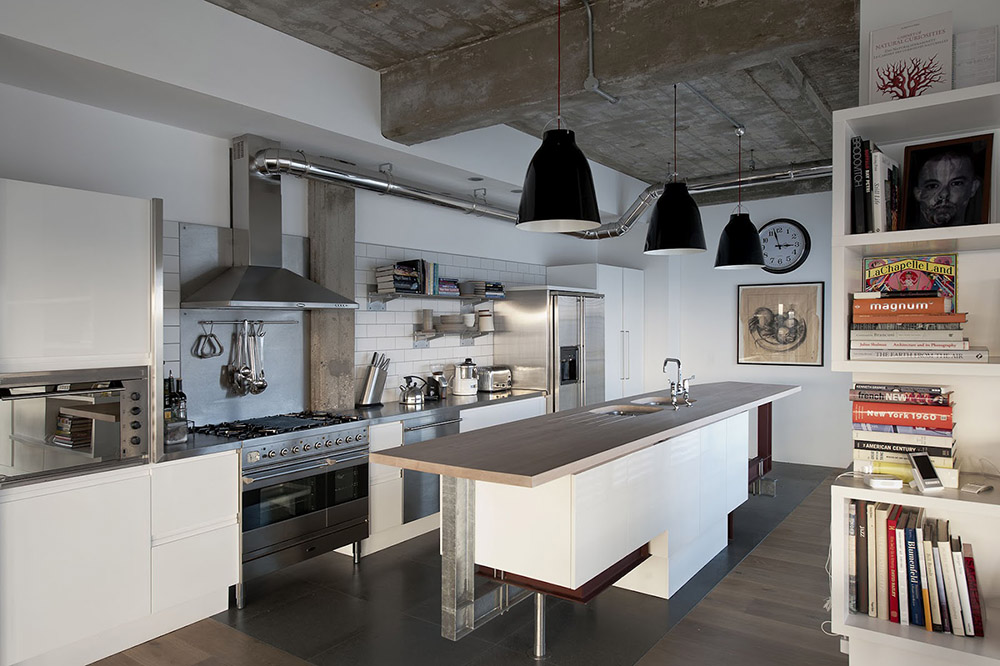 Whether you live in Lower Downtown Denver in a converted loft or you simply appreciate the urban industrial look, there are many kitchen and bath design ideas that can help you achieve that aesthetic. According to an article by Forbes, the contemporary industrial look, including exposed brick walls, ceiling beams and metal air ducts, evolved from abandoned 19th and early 20th century factories being converted into creative living spaces.
When it comes to selecting kitchen cabinetry, countertops and décor, you can incorporate industrial design elements into your own kitchen remodel by following some of these suggestions. Clean lines, angular shapes and a touch of metal are must-haves when it comes to creating a space inspired by the urban, industrial vibes of a metropolis.
Streamlined cabinets
The more minimal your kitchen cabinets are, the better. Design with open space in mind and choose a slab, or flat front, door style that will keep a clean line. Go with a glossy acrylic, metal or an exotic wood, such as wenge or bamboo veneer. Custom cabinets with bright colors can add a striking contrast against the cold look of metal or concrete. Black, white, silver and gray with pops of red, orange and bright chartreuse are colors more often used in urban lofts than browns, muted greens, yellows and earth tones. Avoid the unnecessary decoration of cabinet knobs and handles by choosing a design that incorporates integrated pulls or magnetic touch options.
Sleek countertops
Many industrial-style living spaces have concrete already integrated into the architecture, so choosing a concrete slab for your kitchen perimeter or island countertop would be a great match. Other good options are recycled glass with specks of color, engineered quartz and butcher block or repurposed lumber. Metal countertops, such as stainless steel, zinc, copper, pewter or bronze cast a definite urban glow and complement any industrial space.
Original floors
In turn-of-the-century factories, concrete floors were an integral part of the building design. In keeping with that industrial look, utilize the existing concrete for your flooring but polish or stain the material to give it a crisp, clean appearance. Use carefully-chosen throw rugs to soften the look and feel of the concrete in key places, such as the living room, bedroom and other areas of relaxation. Should you decide to install porcelain floors that resemble hardwood, make sure that the color complements your cabinetry choice.
Find a focal point
Creating a focal point will draw the eye in a particular direction of the room, offering both visual interest and cohesiveness. Finding the perfect light fixtures for your kitchen is one way to add that focal point element. From mesh-covered pendant lights to iron wall sconces, industrial-style lighting is fairly easy to obtain due to its current popularity. A section of exposed brick on one wall can also become a striking focal point in the kitchen, so don't be quick to drywall over it. Keeping elements of the harsh materials used to construct an old building can add vintage personality and charm to an updated space.
When it comes to kitchen cabinetry, the style you choose should complement the overall look you want to achieve throughout your home. At BKC Kitchen & Bath, our kitchen experts can help design your kitchen for industrial chic, vintage, eclectic or any other style. For more kitchen and bath ideas, please contact us.