28 Jul

Knobs and Pulls: Distinctive Cabinet Hardware

[Revised March 2020]

If you're remodeling your kitchen and bath and adding new cabinetry, then choosing distinctive cabinet hardware is an important step in the design process. Knobs and pulls may seem insignificant in the whole design scheme, but these small touches of décor can make an impact. From ornate to simple, metal to glass, the hardware you choose will put the perfect finishing touches on your new cabinetry.

So how do you choose the right hardware for your project? Consider the overall look you wish to achieve, then find knobs and pulls that best complement that style. Here are some design options to help point you in the right direction:
Contemporary
For a contemporary-style kitchen with sleek, frameless cabinets, consider pulls and knobs with square edges rather than round. This metal and glass knob by Richelieu offers a stylish element, perfect for flat cabinet doors in solid wood or textured laminate. For a more subdued look, choose thin metal edge pulls that blend in with the cabinetry.
Arts and Crafts
A home with Arts and Crafts design typically includes artisan cabinetry and built-ins made with rich woods like cherry and walnut. Decorative metal hardware with artisan touches, such as the "hammered" Atherton Collection from Schaub and Company, complements well with this early American style.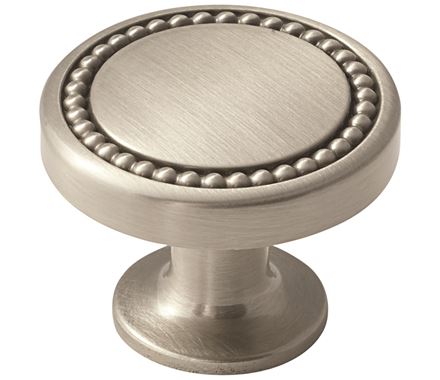 Country Cottage
A kitchen that evokes country or cottage charm deserves hardware with a bit of whimsy. Look for pulls and knobs that include a filigree or decorative pattern, such as the Carolyne Collection by Amerock. Porcelain or ceramic knobs painted with colorful accents are another great option to enhance the charming aspects of your kitchen.
Traditional
Wood and painted cabinets that feature classic, decorative design look best when paired with refined hardware that balances the details. The American Classica Collection from Berenson offers a stylish selection of traditional knobs and cup pulls in finishes like weathered copper and brushed nickel.
Mid-Century Modern
Flat-panel cabinetry, chrome accents and colorful countertops provide a vintage look in the kitchen. The clean lines and retro feel of mid-century modern design requires the right hardware to make it pop. Look for sleek, fun shapes in polished chrome, like these Modern Deco pulls from Top Knobs.
Transitional
If your kitchen has a mix of traditional and contemporary design, keep the cabinet hardware simple. A smooth satin nickel or oil rubbed bronze piece, such as the Hindra pull from the Nouveau III Collection by Top Knobs, will complement most décor and provide a cohesive look throughout the room.
Eclectic
If you prefer a blend of styles, make a bold statement by adding hardware with unique shapes, colors and shine. It's okay to put some bling on your doors and drawers, like this fun pull from the Skyevale Collection by Schaub and Company. Made with satin nickel and glass crystals, it's sure to add a dazzling touch to your kitchen or bath.
Cabinet knobs and pulls are not only stylish, they're also practical. Choosing distinctive hardware in your kitchen and bath that complements your style will enhance the look of your home. Contact us to learn more about cabinet styles and the hardware that best suits them.