22 Feb

Defining Studio Space with Cabinetry

The layout of a residential studio or loft is typically designed with flexibility in mind. The ability, however, for the same limited dimensions to serve multiple purposes while maintaining a sense of space can be a challenge. With the use of strategically-placed cabinetry and helpful solutions from a seasoned kitchen and bath designer, spatial definition and flexibility can still be achieved while preserving the overall open feel of the room. Here are a few suggestions for creating the perfect studio dwelling.
Cabinets help define spaces in a large studio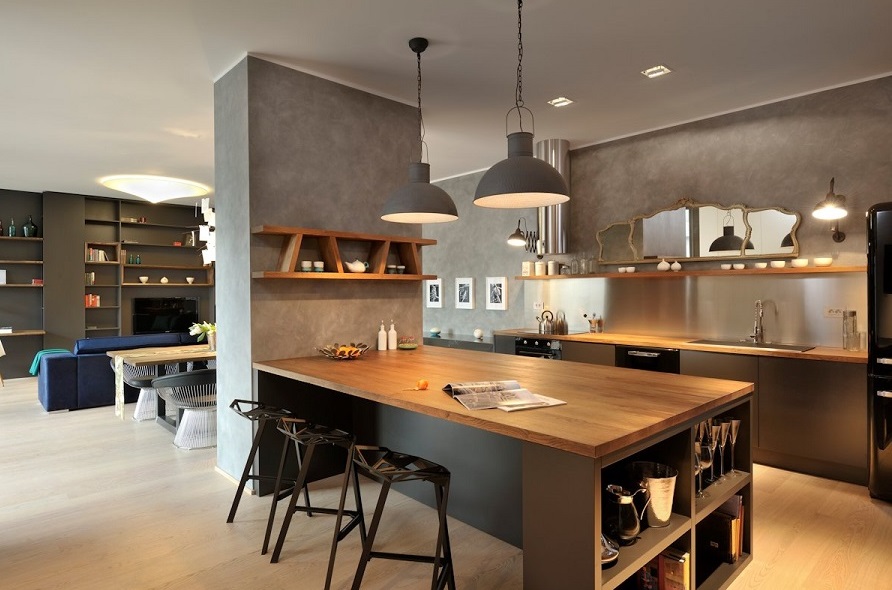 Image: www.freshpalace.com
It is widely known that one of the most definitive spaces in any layout is the kitchen. However, in an open floor plan the impression of this space can be easily lost when the surrounding zones start to bleed into one another. For a studio where the dining space blends into the kitchen and the kitchen blends into the living room, adding cabinets into the mix can help visually divide the open space into sections. For example, integrating a single wall of cabinets in the kitchen can add storage and define the room without completely disrupting the flow of space.
Another option is to install a cabinet peninsula or island that will distinguish the kitchen from surrounding areas while simultaneously offering an informal place to sit and eat or work at. No matter the room, adding unique elements with the use of custom cabinets will give any zone individual purpose without compromising on the flexibility of the layout.
Mixed-use cabinets create multi-purpose spaces
When your living room is also the space you work, craft, play, entertain, or even sleep in, it can be hard to balance those multiple functions in one area. A combination of open shelving and closed cabinets will help streamline the room without reducing its variable functions. Moreover, meeting with a designer to consider the primary and secondary uses of the space can reveal how much open shelving may be needed versus what should be hidden within cabinets.
For instance, Denver custom cabinets that allow you to hide your TV or electronic equipment while you work is a great way to turn your entertainment room into a productive office environment. Once your work is done, the room can easily be converted back into a fun zone simply by pulling cabinet doors back open. Cabinets can also serve as multi-purpose storage units that make transforming a living room space into cozy sleeping quarters quick and easy.
Cabinets can create a sense of privacy
Images: C O N T E N T Architecture
One of the biggest challenges with an open layout is creating privacy. Whether it's concealing your belongings or defining a bedroom area that is distinct from the rest of the space, cabinets are a helpful inclusion. Although it is not often the goal of a studio or loft layout to create isolated zones, the sleeping area tends to call for more seclusion. Installing a partial wall of cabinets to create a private hedge between living areas will not only offer a certain amount of privacy but will also bring extra storage for clothing, bedding, towels and other belongings.
Strategically-placed cabinetry and shelving systems within an open floor plan are perfect for tucking items away or displaying them in an organized fashion. They combine aesthetic with function and help to maintain cleanliness in a layout that can otherwise have a tendency to show clutter.
Image: MusaDesign
Storage is a necessity in any space, but it is especially important in a loft or studio where the open layout is easily compromised by undefined areas. Cabinets are a great way to incorporate storage and transform a studio's functionality without diminishing its spacious style. To gain a designer's perspective and to learn more about how various cabinetry options can transform your studio or loft, contact us.