28 Jul

Knobs and Pulls: Deciding on Distinctive Cabinet Hardware

Whether you're looking for a small way to update your kitchen and bath, or you plan to do a total remodel, picking the right cabinet hardware is an integral part of the design process. Although simple knobs and pulls may seem too insignificant for anyone to notice, the small touches of décor can really make an impact in your home. From ornate to simple, metal to glass, the cabinet hardware you choose will help put the perfect finishing touches in your kitchen and bath.

So how do you choose the right cabinet hardware for your project? Consider the overall look you wish to achieve and find knobs and pulls that will best complement that style. Here are some design options that might help point you in the right direction:
Contemporary
If you have a contemporary-style home with sleek, frameless cabinets, consider rectangular pulls in stainless steel, or choose square glass knobs to add a touch of sophistication. This metal and glass knob by Richelieu offers a great contemporary element, perfect for high-gloss or textured laminate cabinetry.
Arts and Crafts
If the style of your home represents classic Arts and Crafts and includes rich wood built-ins, shelves and cabinetry, look for decorative hardware that is solid bronze or iron. The Breckenridge Collection from Schaub and Company offers an array of hammered knobs and pulls sure to complement any Arts and Crafts home.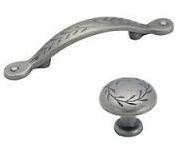 Country Cottage
If your décor evokes a country or cottage charm, choose cabinet hardware that will enhance that ambrosial feel. Look for pulls and knobs that include a filigree pattern etched into weathered nickel, such as the Inspirations Collection by Amerock, or incorporate porcelain knobs painted with colorful floral accents.  
Traditional
For a more traditional kitchen that showcases solid wood or painted cabinets, complementary hardware can come in a variety of finishes, from brass to chrome to oil rubbed bronze. The American Classica Collection from Berenson Hardware offers a wide variety of handles, cup pulls and knobs in many styles and finishes.
Retro/Mid-Century Modern
With the surge in retro and mid-century modern popularity, adding a kitchen that includes flat-panel cabinetry, chrome accents and Formica countertops is sure to bring the old-is-new-again style right to your home. A lot of fun cabinet hardware is available, including these Boomerang pulls by Rejuvenation. Look for modern, swoopy shapes in polished chrome.  
Transitional 
If your home encompasses a mix of styles that can't easily be defined, keeping your cabinet hardware less decorative and more functional may be the way to go. A simple satin nickel or oil rubbed bronze pull, such as from the Somerset Collection by Top Knobs, will complement almost any décor and add a touch of flair without being too flashy.
Eclectic
For the homeowner who wishes to make a bold statement with design details, incorporating cabinet hardware that has unique shape, color and shine will make your cabinetry pop. Although these jazzy pieces may seem a little more challenging to find, you will be amazed at the variety of styles out there. This 32mm pull from the Skyevale Collection by Schaub and Company is made from satin nickel and glass crystals, sure to dazzle any kitchen or bath.   
Cabinet pulls, handles and knobs are not only stylish but also practical. Updated hardware in your kitchen and baths can change or enhance the overall look and feel of your home. Contact us to learn more about cabinet styles and the hardware that best suits them.