18 May

Colorado Homes & Lifestyles
Colorado Coastal
BY REBECCA GART
PHOTOGRAPHY BY DAVID PATTERSON
STYLING BY RUTH SONNENSHEIN
Acres of land and a contemporary farmhouse provide an expansive living space for a family of five, two dogs, and a fabulous art collection.
We wanted an interesting house – not everything there at once to see when you walk in. We wanted a house that you can explore and discover. – Homeowner
Architect Larry Cohen calls the home "a mélange of East Coast massive and California coastal." He explains that many of the grand houses on the East Coast at the turn of the 20th century were rambling shingle-style homes with small windows and lower levels made of brick or native stone. They were designed to feel as if they were growing out of the landscape, while the upper-level rooms were built into the large roof lines.
However, "West Coast homes have a more casual and airy feel," he adds. "They can be much more open to the outside with large windows to expansive views. This house is a marriage of these two styles: the dressy, formal planning of the East Coast, but looser, and large expanses of glass that highlight the great mountain and garden views."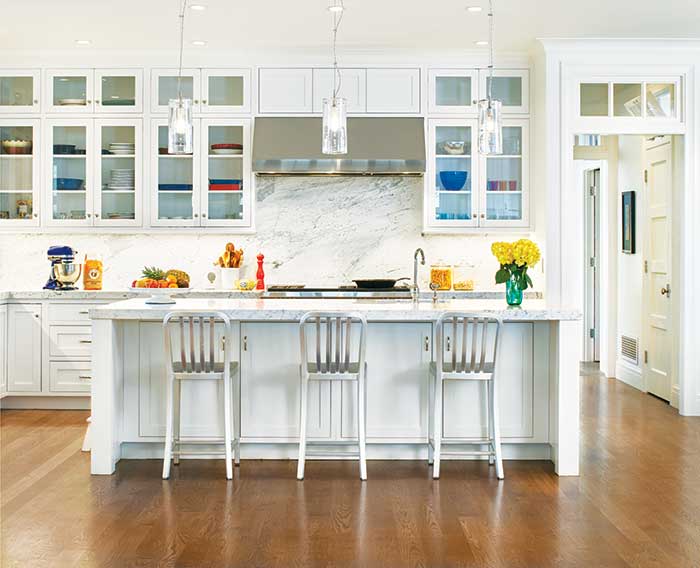 Simon Pearce pendants hang over a Carrara Italian marble countertop in a kitchen thoughtfully designed by BKC Kitchen & Bath in Englewood. "It's just so light and welcoming while also functional," says the homeowner.
[Featuring Designer White beaded inset cabinets by Crystal Cabinet Works, Inc.]