29 Nov

An Open Floor Plan For Your Kitchen

Where once the kitchen was a separate room strictly for cooking and food storage, it's since become the hub of the home – a place to entertain, discuss events of the day and cook meals together.

Many current remodel and new home construction projects include an open floor plan; the kitchen directly connects to a family room or den, creating a spacious, inviting area. Removing walls, adding windows and integrating similar color and design concepts throughout can offer a seamless look that complements the overall space.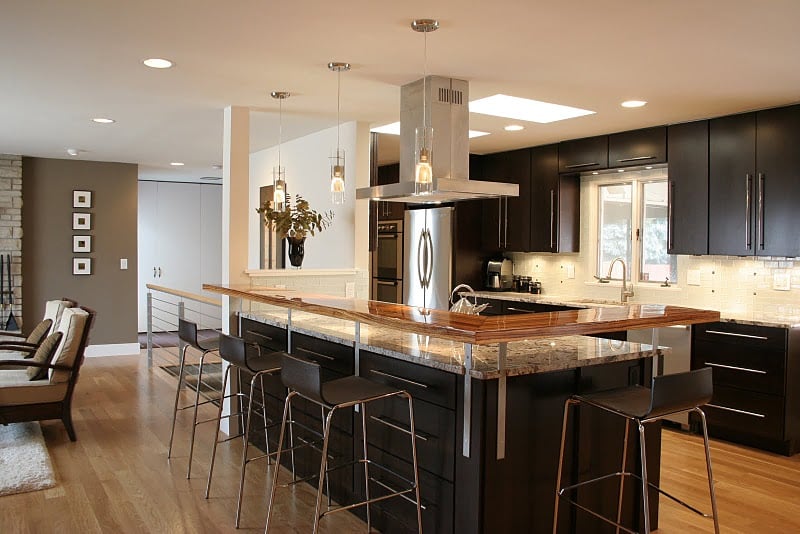 In an open floor plan, the kitchen island typically becomes the focal point, acting as the key component to separating the rooms while simultaneously keeping them connected. Islands are no longer just for cooking and food preparation; family members and guests tend to frequently gather there. Having an island that is both functional and visually appealing is a great addition to any kitchen.
"A kitchen is often used as so much more than a simple cooking space. Whether your family is clustered in and around the kitchen at the end of another busy weekday or you're cooking a wonderful weekend gourmet meal with friends or extended family are joining in festive holiday events in your home, the kitchen often becomes a central social gathering place. When this happens, it's nice to have a connecting space such as a family room or den that allows the opportunity for everyone to interact, without having everyone right in the kitchen. That's where the open floor plan comes in." – Susan Serra, CKD, CAPS, courtesy of "Cultivate: your ideal kitchen"
For great Denver kitchen design ideas, visit the Portfolio or kitchen photo section of our website or visit our Denver showroom to speak with a designer.